Monday, February 17, 2020 - 09:57
Following what the Met Office is calling 'the storm of the century', when Ciara's wind gusts in parts of the UK topped almost 100 mph, Britain's premier manufacturer of fence panels is prepared for an unprecedented peak in demand for replacement fencing.
Forest Garden, the UK's industry leader in fence panel production, is well placed to meet the challenge, from the forest to the doorstep they are a vertically integrated business. With their own sawmill, automated manufacturing site and UK wide delivery network - there is total control.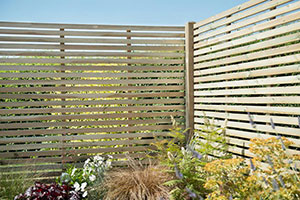 "We always face large increases in demand from retailers for replacement panels following winter gales and have been building stocks in readiness," says Guy Grainger, CEO.  "Storm Ciara has, however, been the most severe storm for more than 20 years and fence damage is reported from all areas of the UK.  
We have increased our manufacturing output but, should demand outstrip supply, we will liaise with our retail customers to help mitigate any temporary shortfall"
Following major winter storms, Forest Garden can see demand for replacement panels doubling. The manufacturer can hold up to 400,000 panels in stock and if needed, can produce up to 50,000 fence panels each week.