Monday, June 11, 2018 - 10:54
Kent & Stowe has launched a unique collection of gifts using the WW2 Dig for Victory campaign, taking inspiration from British civilians who grew their own throughout WW2.
Products and packaging draw on the images of the Dig for Victory campaign where every possible piece of land was turned into vegetable patches to help Britain become self-sufficient during the conflict. Today, the renewed interest in 'Grow your own' is inspiring people of all ages to develop an interest and learn new skills by producing fresh home grown produce.
Fascinating information about living during this period is incorporated within the products. At the outbreak of WW2,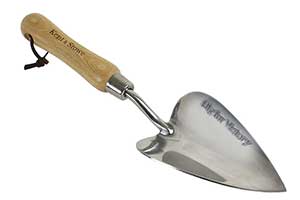 Britain only produced a third of the food needed, however by 1943 there were over 1.4 million allotments in Britain. The moat at the Tower of London was given over to growing vegetables and even the Royal Family sacrificed their beloved rose beds for growing onions.
There are ten gardening products in the initial collection, including attractive and practical items such as a Pointed Hand Trowel, Herb Pot Set, Watering Can, Carrier Apron, Plant Mister & Snips and a nest of Storage Tins; ideal for storing baking or household items. RRPs range from £7.99 to £29.99.
Uniquely included with each gift are a set Garden Tips and Recipes from the Ministry of Food and Agriculture. In the booklet you will find delicious recipes for strawberry jam and ginger sponge pudding.
Items from the range make beautiful gifts for those with a love of gardening or history.
Kent & Stowe has agreed a 3 year partnership with Imperial War Museums for the exclusive use of imagery and branding in gardening related merchandise.
For more information about the Dig for Victory campaign and Kent & Stowe please click here.