Do you have rattan furniture in your garden? With it being one of the most popular choices for garden furniture there is a good chance that you do. Rattan furniture is exceptionally popular due to the fact it needs very little maintenance. Good quality rattan furniture is rust-proof, weather resistant and easy to wipe clean if there are any unavoidable spillages.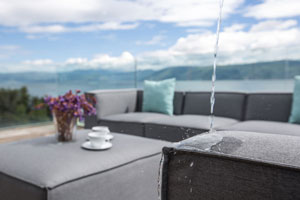 However, that doesn't mean you should neglect your furniture completely. At White Stores, we believe taking care of your furniture means that it will exceed its guarantee and continue to serve your needs for years to come. 
A monthly or bi-monthly cleaning routine could work wonders for your rattan and we recommend these simple three steps for a thorough clean:
Step One: Fill a bowl with warm water and add a few drops of dish detergent, stirring until bubbles form on the surface of the water. 
Step Two: Dip a soft cloth carefully into the bubbles only, not the water, and then wipe the rattan with the bubbles. This will clean the rattan without over-saturating it. 
Step Three: Use a soft bristle brush (a toothbrush works well) to clean the crevices. 
Whilst you're cleaning your garden furniture you may also want to give your furniture cushions a clean, as they are much more likely to attract mildew, dirt and stains compared to the furniture itself. At White Stores, all of our cushions covers can be unzipped and are machine washable. We recommend washing them on a low temperature to avoid colour fading and shrinking. 
For cushions that cannot be machine washed:
Step One: Mix 200ml of clear liquid detergent in 4 litres of lukewarm water. 
Step Two: Work the bubbles into the fabric with a sponge. 
Step Three: Rinse thoroughly with a high-pressure garden hose or jet washer to remove detergent residue and set aside to dry.  
For even less maintenance garden furniture, White Stores has designed an exclusive range of fabric garden furniture in partnership with Sunbrella. The fabric material used is fade resistant, mould and mildew proof, UV resistant, water repellent, stain resistant and highly cleanable. 
The fabric furniture has many unique features, making it incredibly low maintenance including its water repellent abilities. In a light shower the water will bead up and simply run off the furniture, and in a heavy downpour the quick dry foam will allow the water to run right through and out. 
But perhaps our favourite feature is the stain repellence meaning that spillages can be wiped off immediately and even the toughest chocolate, fruit or ketchup stains can be removed using a simple solution of: 
150ml of bleach
40ml of mild soup
2 litres of water
Step One: Apply the solution to the fabric and clean with a soft-bristle brush. 
Step Two: Allow the mixture to soak into the fabric for 15 minutes then rinse thoroughly until all soap residue is removed.
Step Three: Simply allow to dry and you will never know the mess was there. 
Whatever garden furniture you have it is a good idea to have a good cleaning routine in place in order to get the most out of your set. 
For more information please visit: whitestores.co.uk