Monday, July 31, 2017 - 13:46
Tips on how to choose the best garden buildings for your home:
• Budget – before you start looking at the various garden buildings available, you need to decide on your budget to ensure you get the most out of your money. 
• Accessibility – it's important to make sure that whoever will be using your garden building can access it easily, without tripping over the doorway or banging their head on their way in and out. You'll be able to request measurements from the manufacturer to make sure you're getting a suitable sized garden building for yourself, family members or friends. 
• Purpose – will you be using your garden building for business or pleasure? This will help you decide on the type of garden building which is most suitable for you. For example, if this will be a play area for a child, a summerhouse would be best, however if you plan to use this for work, you should consider a garden office building. 
• Style – You may want the outdoor building to complement your home, and there are many different styles of garden buildings available to suit everyone's taste. For example, you may go for a vintage inspired wooden pavilion to entertain friends, whereas someone else may opt for a modern, polished white log cabin.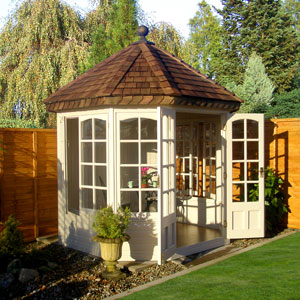 • Space – with there being such a large range of garden buildings on the market, you should be able to find a building which is a suitable size for your outdoor area. Once you've decided on the style of garden building you want, find out its measurements from the manufacture and use tent pegs to mark out its dimensions in your garden to get an idea of how your garden building will sit within the garden.
GBC comment on making your garden an extension of your home:
It's usually around this time of year when people come to us for a new garden building. With summer just around the corner, it's the perfect time for your garden to become an extension of your home. If you ask any garden designer, they will tell you that the best way to make the most of your garden is to keep it consistent with the style of your home - create a space where you'll want to spend as much time outside as possible. Think carefully about how you will want your outside area to look. If you prefer subtle colours and prints, why not use the same tones and designs in your garden? Making your garden look and feel like an extension of your home is an effective way to ensure that it's a beautiful, and relaxing place to spend time in.