Thursday, January 16, 2020 - 09:45
The Hawkesmill Nurseries team have to keep an eye on the top plant trends when producing perennials, wildflowers, grasses, ferns, herbs and more.  Fashionable colours and varieties are more important than ever when choosing ornamental plants.  And with all of us being much more aware of climate change, it is also important to look at growing your own herbs and vegetables to ensure the food on our plate has a smaller carbon footprint.
The Pantone colour of the year has now been announced as 'Classic Blue', a hue that will instil calm and confidence, not only in your wardrobe and on your living room wall but in your garden too.   
New to the Hawkesmill Nurseries range this year is the superb form of Monkshood ' Aconitum arendsii' which has dark blue flowers in August and September and a height of 100-120cm.  Salvia 'Mystic Spires' also has a stunning deep blue and long flowering form which is attractive to bees and butterflies.
With the carbon footprint of cut flowers at the top of many peoples agendas, there has never been a better time to grow the blooms that you love to see both in the garden and in a vase, yourself.  This is also true of edibles, growing food, therefore, making the trip from plot to plate as short as possible, has never been easier.  The range of Hawkesmill veg has now grown to 32 varieties and includes aubergines, courgettes, leeks, peppers, squash and tomatoes, to name but a few. Whilst the selection of the herbs has grown to over 80 varieties including unusual delights such as Curry Plant, Mint Strawberry, Basil Cinnamon, Wasabi Mephisto Red and Stevia. 
The family-run business combines traditional heritage with the modern needs of today when it comes to 'green' growing innovations for their plants.
In addition to their returnable and reusable 9 cm trays,  Hawkesmill introduced new carbon-free 'Green' pots this year, which are detectable for recycling and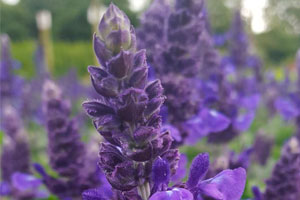 are also manufactured using 97% Post-Consumer Waste.  Post-Consumer Waste is carbon pigment-free and can be detected on NIR sorting lines,  confirmed through independent testing by RECOUP across the UK
Other environmental improvements have included recently installed solar panels on dispatch buildings and the creation of a water storage reservoir.  The reservoir 'harvests' rainfall from the glasshouse and polytunnel roof, as well as the outside nursery beds.  In addition the team re-cycle irrigation water from inside the glasshouse and nursery beds too.  
Plants from Hawkesmill Nurseries are NOT sold directly to the consumer by them but via a selection of top garden centres and other retail outlets in the UK.
Garden Retailers can contact Hawkesmill Nurseries for more information and general availability by contacting the company on 01676 532334 or by emailing sales@hawkesmillnurseries.co.uk