Monday, January 20, 2020 - 15:33
This month is National Hobby Month, so we spoke to Elizabeth Dixon, a Printmaker from Lancashire. She explains her return to Printmaking, and how you can get hold of some original art to decorate your home.
It has taken me many years to have the confidence to call myself a Printmaker - years of pursuing other creative pastimes which seemed easier to fit in around work and family life. But the imminent approach of my 60th birthday in 2019 was the catalyst that changed everything and sent me back 40 years to rediscover my love of colour, pattern and printmaking.
At the end of the 1970s I was at art college in Hull, studying for a degree in Graphic Design. I was struggling as the constraints of the course didn't quite fit my 'naive' artistic style. One of my tutors, Simon Goldberg, recognised this and one day he handed me a piece of lino and a set of cutting tools saying "See what you can do, then ask me what I think."
I remember Mr. Goldberg as a quiet man who was very generous with his knowledge and advice and I then spent the rest of the 3 year course in the print studio trying different methods such as screen printing, lithography and wood engraving. It was the simplicity of the materials needed for linocut that I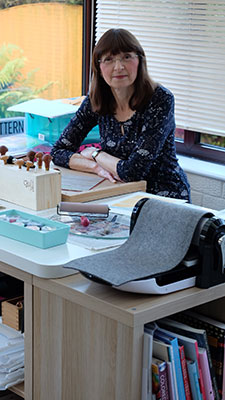 preferred and I soon developed my mark making skills and found it was a great way to transfer the ideas in my head onto paper.
I left Hull with my degree in Graphic Design - specialising in Printmaking & Illustration - but how I missed that print studio!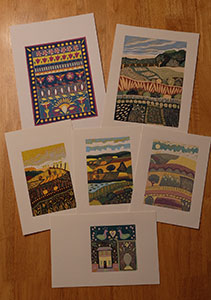 Then, as so often happens, other things took over - work, marriage and family.
I got a job in a library as soon as I left college and realised that I enjoyed that too. Since then I've worked in large libraries, small libraries, behind the scenes in libraries and I still work part-time in a library near my home. This means I now have time to fit in my creative hobby and have set up a studio at home where I'm now printmaking again.
I still have my old cutting tools but have added some lovely new ones to my set. I'd seen that other printmakers were using a small machine intended for cutting shapes for card making as a printing press, so I've been exploring the possibilities of this - so far it seems to be working.
My work is essentially about colour and pattern and is usually inspired by photos I've taken while out and about. I love making my patterned landscape prints and I'm also influenced by folk art designs.
I mainly do what are known as 'reduction' linocuts - a technique used by Picasso - where one block is used for all the colours, more of the block being cut away for each successive layer. My prints can have as few as 4 colours but some have 10 or more.
From each block I usually make an 'edition' of around 10 hand-pulled original prints, each being signed, numbered and dated.
Due to the nature of the process the prints have slight variations and are entirely original. They shouldn't be confused with commercially printed mass-produced artwork.
It is actually a great way for everyone to have affordable, original art to decorate their homes.
And just to show that's it's never too late to start again, I've been documenting my return to printmaking on Instagram @lizziedee28 where you can see more of my work and direct message me for further information.