In April, the Garden Centre Association recorded a rise in catering sales of 7.4% for their members across the country compared  to the same month in 2016. As an increasingly vital part of the overall Garden Centre shopping experience, the restaurant or café has become a key attraction for the customer, sometimes being the sole reason for a visit.
More research, this time in a report published in 2016 by The Kings Fund, identified the profile of people who named gardening as a free time activity. Interest rises sharply through the age ranges, being at over 60% between the ages of 45 and 64 and peaking at over 70% between 65 and 74.There was little difference between the sexes.
This research confirms what most of us know, that the visitors to garden centres are likely to be in their middle to later years, many will be retired and we can conclude that most will want to enjoy something to eat and/or drink during their visit.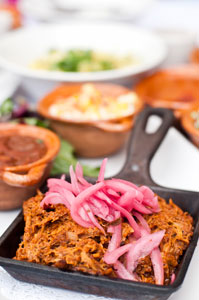 So what exactly do these customers want to eat? And how adventurous are they? 
"I think that the adventurous nature of the grey diner is greatly underestimated," says Tom Styman-Heighton, Development Chef of Funnybones Foodservice. "It can be tempting to offer the same traditional, conservative fare which will undoubtedly please some, but in order to stand out from the crowd, operators also need to examine the trends for casual dining in the wider world. 
"Today's forty, fifty and sixty somethings are better travelled, more food-aware and more concerned for their fitness and health than their parents ever were. They are not frightened to try something a little different, and will explore cuisines from different parts of the world."
This is not to say that garden centres should try to offer every type of dish, but simply that they may benefit from choosing to specialise in one or two other trends that have established a following in the casual dining world at large, alongside their traditional favourites.
Simple changes can make a difference
Trend watchers, The Food People, this year identified American and Mexican foods as two of the cuisines with the highest scale of hype and buzz with opinion formers, and with a strong trend setting influence. With the huge amount of interest in these cuisines, they make a great starting point for some alternative dishes to the conventional menu.
For example, lighter foods that offer health benefits are very on trend and are likely to appeal to this age group. However, too often this means a rather uninspiring salad with a lonesome tomato and piece of quiche (unlikely to be that healthy anyway). How much more exciting would be a burrito – a South American wrap filled with spicy vegetables and possibly chicken, and served warm with a side salad. Easy to prepare, and easy to serve.
Wraps are increasingly popular, and with the health benefits of purple foods now well recognised, wraps made from blue corn add natural colour and inspiration to the plate, whilst also offering less starch, 20 per cent more protein and a lower glycemic index than white corntortillas. Switch to using these and you have a gluten free option that brings a sense of drama to your offering.
America offers great inspiration for dishes that suit the Garden Centre environment. Burgers and grilled meats are tried and tested favourite, but how about tapping into the desire for authentic regional cuisine to offer a taste of real America alongside. 
"Kansas City is lauded as the world capital of barbecue and its eponymous barbecue sauce features some of the area's best known ingredients such as tomato and molasses," explains Tom . "Whilst in South Carolina the barbecue sauce of choice is yellow and mustard based, perfect for grilled pork and sausages. A sauce menu featuring these and other sauces with tasting notes and the stories of the sauces, would be an intriguing way to make dining more interesting for customers."
Sweet treats
When it comes to desserts people tend to have their favourites and may return regularly to enjoy the same sweet treat. Ideally, it works to mix things up, offering a few desserts that make a regular appearance to please those looking for continuity, and also one or two seasonal desserts as alternatives. 
However, don't let your dessert menu become boring. The dessert menu offers operators a chance to be individual and make a change from the commonplace. Too many offer the same old favourites – Sticky Toffee Pudding, Tiramasu, Chocolate Brownies – these and others like them make all too frequent appearances on casual dining menus. 
Whilst there is always space for one or two classics, we encourage restaurants to be more adventurous with their menus and offer customers a real choice. By buying frozen readymade desserts restaurants can serve great quality, innovative dishes that catch the eye of the diner. Simply defrost and finish with your own style of garnish.
Vary portion sizes too – a thin slice of a rich pudding served with a coffee or tea might be more tempting to some than a large bowlful of the same pudding. 
Many visitors to garden centres and farm shops simply want to enjoy a cup of tea or coffee and a piece of cake. For this reason, desserts should not necessarily be advertised as desserts – try instead the term sweet treats. This way customers can pick the sweet treat they like at any time of day.
Staff make all the difference
Cheerful, polite staff will help grow repeat business and sales, and older people in particular appreciate the attentions of friendly and helpful staff. Make sure that staff are briefed on the ingredients of any dishes and give them the opportunity to try them before they go on the menu, so that they can explain exactly why they are delicious. Your staff are the best people to promote your offering, but chalkboards and a well-designed menu are also key.
Funnybones Foodservice is a specialist wholesaler specialising in all types of food from Northern, Southern and Central America and the  Caribbean. To find out more or to place an order call 01707 321321 or visit www.funnybones.co.uk
images