Blooming success for Blackwood tenants
Tuesday, November 28, 2017 - 11:17
A GROUP of green fingered tenants have been rewarded for their skills by winning a leading housing and care provider's 'Best Community Garden' award.
Lawrence Kemlo, who has been a tenants at Blackwood's Charleston development for 23 years, collected his award at the Blackwood AGM in Largs. 
The 72-year old and his fellow gardening club members began working on their garden over a year ago. 
Lawrence said: "We haven't won any awards before, so it's great to have won 'Best Community Garden' it means everyone's hard work has paid off. 
"The club is open to anyone and is a great way to get together and bond over a common love for gardening. 
"I'm not sure whether we will enter the competition again next year, I guess we'll just have to see what happens."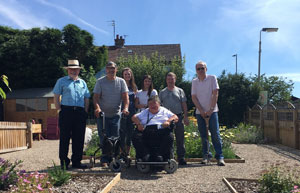 Colleen Scott, Marketing Manager at Blackwood, said: "Every year I look forward to going out and filming the amazing entries to our garden awards. Our customers take great pride in creating truly beautiful spaces. 
"Being able to work on a community gardens is a great way for our customers to come together on a project whereby they can socialise and also contribute to create beautiful spaces that they can be proud of.
"The community garden produced by everyone involved is gorgeous, so they thoroughly deserved to win. We hope everyone who put their community gardens forward for this year's competition is thinking about entering next year and we wish them the best of luck.
"We started the garden awards five years ago as a way for Blackwood tenants to recognise our customers' creativity and effort to make such lovely outdoor areas. Since then it has taken off and has grown year after year with such impressive gardens each time."
Since it was founded by Dr Margaret Blackwood in 1972, Blackwood has been a pioneer in both housing and care, constantly innovating in ways large and small that transform the lives of its customers, helping them to live as independently as possible.
Blackwood's aim is to do whatever it takes to help tenants have control over their lives in a home that meets their needs, using design and technology to support the services it delivers. It has an outstanding record of adapting properties from entire renovations to minor adaptations which are incredibly liberating to those involved.