Retailers have a handy new tool to help drive demand for container gardening with the introduction of 'virtual sales assistants' – expertly crafted POS that provides shoppers with the confidence to make informed purchases.
Woodlodge's inspirational and colourful POS boards will guide novice gardeners who aspire to grow flowers and edibles in containers, but lack the crucial gardening know-how needed to turn their ambitions into reality.
The consumer engagement boards, available now to place in-store, are packed with easy-to-follow, jargon-free advice, giving shoppers the confidence to make purchases and replicate ideas at home. Boards focus on easy-to-achieve gardening activities such as growing an acer in a container, cultivating bamboo in pots, planting bulbs in layers, growing roses in containers and creating a water garden in a barrel.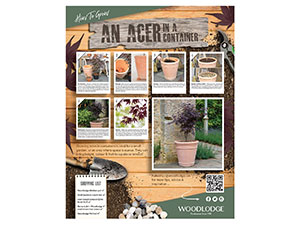 To cater for expanding interest in grow-your-own, Woodlodge's POS boards guide consumers through the process of successfully creating herb gardens in pots, growing fresh salads in troughs and cultivating home-grown strawberries in planters.
Bullet point shopping checklists have been designed to generate linked sales across numerous categories, focusing on container gardening essentials such as compost, pot feet and gravel – in addition to pot and trough recommendations.Illustrated, expert advice empowers consumers to make informed choices with guidance on key topics including sowing, harvesting, drainage, mulching and plant maintenance.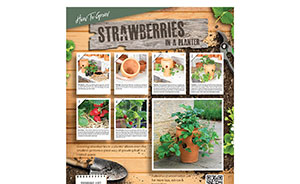 Michael Wooldridge, Managing Director at Woodlodge, said: "Traditionally, gardening know-how was passed down through generations, with first-time gardeners guided by parents or grandparents. Nowadays, with hectic modern lifestyles, younger gardeners often set out on their gardening journey unguided. Our inspirational and informative POS can be positioned close to container displays in store, acting as a 'virtual sales assistant' to help novice gardeners make informed container choices, while driving linked sales by ensuring that shoppers have everything required to bring ideas to life at home."
Handy QR codes on the POS will appeal to tech-savvy consumers. A wave of a smartphone in front of the code will direct shoppers to the Woodlodge website, effortlessly helping consumers to choose the perfect containers to suit their style of gardening.
To find out more about Woodlodge's latest consumer engagement boards, or the company's market-leading product offering, visit www.woodlodge.co.uk