paragraphs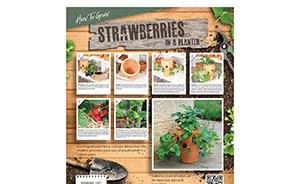 Retailers have a handy new tool to help drive demand for container gardening with the introduction of 'virtual sales assistants' – expertly crafted POS that provides shoppers with the confidence to make informed purchases.
Woodlodge's inspirational and colourful POS boards will guide novice gardeners who aspire to grow flowers and edibles in containers, but lack the crucial gardening know-how needed to turn their ambitions into reality.
The consumer engagement boards, available now to place in-store, are packed with easy-to-follow, jargon-free advice, giving shoppers the confidence to make purchases and replicate ideas at home. Boards focus on easy-to-achieve gardening activities such as growing an acer in a container, cultivating bamboo in pots, planting bulbs in layers, growing roses in containers and creating a water garden in a barrel.