A look ahead to Glee 2019
Monday, April 29, 2019 - 10:14
As the leading trade show for the garden and outdoor leisure sector, Glee is a key date in the calendar. With just five months to go until the doors open on the 2019 event (10th – 12th September, NEC Birmingham), the show's organisers confirm that this year's exhibition will be a bigger and more vibrant showcase of the best the industry has to offer.
Glee prides itself on delivering a format for business growth, be that through locating new product innovation, sourcing new supply partners or simply through unrivalled networking and educational opportunities. The 2019 show will continue to build on this success, with the richest selection of content available at any garden retail exhibition. 
Each year the show delivers in excess of 7,000 UK and international visitors, with a strong focus on senior level management and decision makers. At the 2018 event, over 60% of visitors had direct purchasing power, and over 70% placed orders either at the show, or post-event. This level of purchasing power is expected to increase as garden retailers continue to find a point of difference for their product offering ahead of the 2020 season.
To date, over 75% of the Glee 2019 floorplan has been reserved, with big name brands such as Westland, Evergreen Garden Care, Fiskars, Burgon & Ball, Apta, EP Barrus, Smart Garden Products, Kelkay, Tildenet, Woodlodge and Handy Distributionmaking their home within Glee's central main thoroughfare, creating a central point of interest for visiting retailers from independent and multiple garden centres, DIY retailers, high street and department stores and online retail giants.
Away from the main boulevard, Glee 2019 will be a hotbed for the widest range of brands and innovators. From home and gift suppliers, to celebrated growers, suppliers of retail and business support services, and the best new and proven sellers from landscaping and garden décor, outdoor entertainment, and garden care brands. Over 550 exhibitors are expected to fill NEC halls 6-8, and 19-20, providing the biggest pool of engaged suppliers anywhere in the UK.
The show's dedicated Pets at Glee section will be a feast for the senses as a range of pet powerhouses and unique brands come together to create the strongest showcase of this thriving sector. An area of significant growth, Pets at Glee will be THE place to source pet product suppliers, helping retailers to enjoy a slice of this £7billion industry.
The Retail Lab @ Glee continues to prove to be a popular attraction, which is why the area has been confirmed to make its return in 2019, under the guidance of Glee's Retail Lab Trend Forecaster and Concept Developer, Romeo Sommers. Over 78% of those that visited the Retail Lab found the area to be useful, helping them to source new products, merchandising ideas and retailing best practice.  A sentiment mirrored by over half of Glee's overall audience, who stated that finding out more about future trends was a primary reason for attending the show. With the support of the HTA, the Retail Lab is set to be bigger in 2019, and will focus on key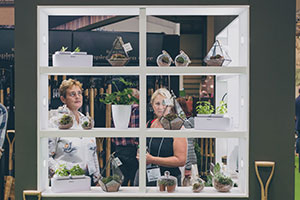 trends shaping both the mid and long-term future of our market.
Building more content to help support the continuous growth of gardening in the UK will be a key theme of the 2019 event. Garden retailing is continuing to buck the trend, with growth for both garden retailers and suppliers continuing to grab the headlines. At Glee 2019, look out for more features, seminar sessions and year-round information relating to trends, merchandising and practical advice on ways to build better business, whilst also tackling the most burning issues set to affect the industry in the years ahead. A new series of workshops will also be introduced, helping visitors to benefit from some quick 'takeaway' content that can be quickly implemented away from the show.
A special Glee app will also make working the show easier than ever. Developed in response to the industry's desire for such a tool, the new AI-powered event 'matchmaking' solution - from market-leading experts, Grip - will offer benefits for both exhibitors and retailers, utilising a platform that has already proved its worth at many leading events across the globe.
Visiting retailers will be able to better measure – and even increase - their 'Return on Time' spent at the show, through personalised exhibitor recommendations, and an easy-to-use meeting scheduling function. The Glee app will also include an overview of all of the exhibition's wider educational content and seminar programmes, helping retailers to plan their trip around Glee all from the palm of their hand. The Glee app will be made available to the market in June.
Matthew Mein, Glee's Event Director said: "Glee 2019 has been designed to pack even more of a punch. From the biggest collection of big-name brands and niche suppliers, to an unrivalled format for networking and growing businesses, there will be a reason for the whole garden retail team to visit Glee. We're excited to share more of our development plans for the show with the industry over the coming months."
Find out more
Glee is the UK's leading garden retail show, focussing on building year-round profits for buyers and suppliers within the core gardening and outdoor leisure product categories.  To keep up-to-date on the latest Glee news visit www.gleebirmingham.com.  To enquire about exhibiting at Glee 2019 call +44 (0)203 3545 9752.