The 2018 gardening season has certainly been one to remember. At the start of the year the question on everyone's mind was 'When is it going to stop raining'.Then it did stop and summer arrived but the worry was how long the good weather was going to last. However, the sun just keeps on shining and here we are at the beginning of November and the leaves are still on the trees.
There were predictions of an early Autumn, but summer just wouldn't let go, sogarden centres are ready for Christmas and consumers still enjoying lovely warm days. Things are now about to change with temperatures dropping to more seasonal norms and Autumn and Christmas ready for lift off.
The Kent & Stowe 'Dig for Victory' Christmas & Gift range has really caught the imagination. In liaison with Imperial War Museums the superb range has been selected to appeal to customers looking for high quality, desirable home and garden items at affordable prices. There are ten gifts in the collection with each one containing authentic wartime recipes and a host of garden tips plus images and history of 'Dig for victory' activity. This range is perfect for gardening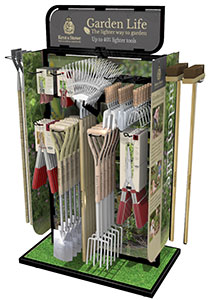 outletsand the eye-catching packaging and POS is ideal for the Christmas gift market.
There is no doubt that the 'Kent & Stowe Garden Life' range has created a new category which has really hit the mark and appeals to gardeners of all ages and abilities who prefer tools that are fit for purpose without being heavy or cumbersome.The up to 40% lighter weight tools are inspired by today's gardener and are designedto give maximum comfort and enjoyment from a lighter and more compact tool. The range covers all the tasks for tidying up the garden before winter sets in including digging, raking, cutting and planting.
Kent & Stowe also have a range of Spring promotions available to order now from your Crest Garden sales contact.