Tuesday, December 11, 2018 - 13:40
There's no doubt that winter can be a tough season for landscape gardeners. During the colder months, clients are more interested in staying inside than getting out and making the most of their outside space, which can lead to a drop in new business leads. To make things worse, gardening in winter is a much bigger job, with bad weather, freezing temperatures, and shorter days making even basic tasks much more challenging.
So, should professionals down tools until spring, or is there a way to make it work? With good planning, a few smart business strategies, and the right equipment, you can continue gardening in winter. Here, we've shared four ways to adapt to this difficult season.
Adapting to shorter days
In the depths of midwinter, professional gardeners can have as little as six hours of daylight in which to work safely. Gardening in winter can be a dangerous job without adequate light so, if you'll be carrying out major landscaping work, you may want to invest in some portable work lights. These can easily be transported to different jobs and will allow you to extend your working day without compromising the quality of your work.
Protect yourself against colder weather
There's no such thing as bad weather, only bad clothing. Gardening professionals are at the mercy of the elements, so it's imperative to have protective clothing that allows you to work effectively in tough conditions. Go for brands that produce weather-proof clothing especially for those who work outdoors, like the ones in this selection of winter clothing from Zoro.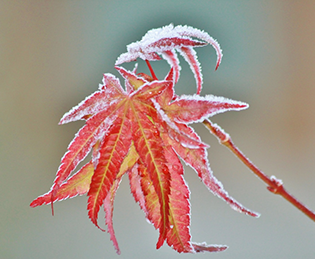 Offer winter maintenance plans
While many people are still under the impression that there's little or no work to be done in the garden during the winter, there are still a whole host of important tasks to get sorted. By offering seasonal care and maintenance packages, you can still have a consistent — if slightly less lucrative — source of income until spring arrives.
Whether it's raking leaves, pruning shrubs, or removing ivy and brambles, there are lots of services you can offer during the winter months. Some landscapers even top up their incomes by putting up Christmas lights! Whatever you do, just make sure you publicise your offerings and make your existing clients aware of them. Check out Design Hill's tips for successful marketing to learn more.
Plan your cash flow with rainy days in mind
Even with the best equipment, it's not always possible to keep gardening in winter, so it's likely that you'll need to down tools for at least a few days during severe cold snaps. This is all part of the job, so you should plan your yearly schedule and cash flow accordingly. Make sure you keep enough of your takings from the summer to tide you over during quieter periods and plan holidays and smaller, administrative jobs for times when you know you're unlikely to be gardening. If you need some help staying on top of your cash flow, you might want to invest in some accounting software, like FreshBooks.
If you're finding the prospect of a quieter season with fewer jobs somewhat daunting remember that, with good planning and careful management of your cash flow, it is possible to keep winter gardening going.