Thursday, December 7, 2017 - 08:53
Don't forget to look after your dog's needs this Christmas season
Christmas is coming and there is much to look forward to for the whole family – including your pet pooch. 
But while your dog may enjoy their own special Christmas meal, or their own gift under the tree, it's important to remember the busy festive season can be stressful for your pet. Travelling to new places and a busy home can cause anxiety, and that extra cheeky sausage at dinner is not balanced out with an extra-long walk on Boxing Day. 
So to lend a helping hand Siobhan Griffin, Learning and Development Executive at Lintbells, manufacturer of natural premium pet supplements has shared some top tips on how to make your dog's Christmas the best one yet. 
"If you're escaping the madness and treating yourself to a Christmas getaway, or perhaps you are driving home for the festive season and taking your pooch with you, it's important to bear in mind a few tips and tricks to make sure they are calm and happy.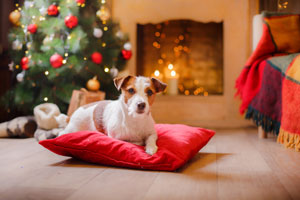 "If you are travelling in a car make sure your canine companion is safe and secure by using a harness, fixed crate or a partition in the back. You will also need to monitor the temperature, don't let the car get too hot or too cold, and never leave them in the car alone. To ensure a stress free journey allow your dog to become familiar with the car beforehand, let them have a sniff around and even put a blanket in there with a familiar scent if needed.
"Christmas can be a busy time in many households and this can be overwhelming for some dogs, from excited children running around, friends and families visiting to carol singers knocking at the door. If your dog does experience anxiety in situations like this try to keep them as calm and relaxed as possible by creating a cosy area for them away from the fuss with some of their favourite toys and blankets. You could also give them something tasty to chew on that will keep them occupied when you have guests over.
"It isn't Christmas without presents under the tree, so don't forget to hide something exciting for your dog to find on Christmas morning, they are a member of the family after all. Treat them to a new toy, their favourite healthy treat or even something that will benefit you which they will enjoy, such as a brain training game to keep them occupied when they are home alone. 
"We all know one of the best parts of the festive season is the delicious foods; however what you enjoy indulging in may not be the same for your pooch. It can sometimes be hard to resist your furry friend when they are staring up at you at the dinner table, but you should always think before feeding them any leftover turkey or mince pies. 
"The key foods your furry friends should avoid this Christmas are anything with onions or garlic in including stuffing and gravy, dried fruits which can be found in mince pies and Christmas pudding, along with alcohol, cheese and of course chocolate. Try to stick to lean meats, vegetable scraps (without onions) and boiled potatoes.   
"Feeling a bit sluggish after all that Christmas indulgence? Then why not get up off the sofa and go for a Boxing Day walk with your canine companion. Not only can you get outside and enjoy so some fresh winter air and burn off some of those mince pies, but this will also keep you dog active and their joints fit and healthy.
Seeing the New Year in with a bang
"New Year's Eve is a cause for celebration all over the country, with lots of fireworks being set off to mark the occasion. Whilst these are beautiful to look at and enjoyed by most, the loud noises can cause anxiety in many dogs. If your furry friend isn't a fan of fireworks and they appear distressed and/or nervous there are a number of things you could try. Why not try muffling the noise with a TV or a radio, distracting them during the noise or even create them a small, well insulated doggy den."
For more information about Lintbells and the range of products they have on offer to help keep your dog happy and healthy this Christmas please visit www.lintbells.co.uk or call 01462 416866.