As Christmas passes and thoughts turn to the year ahead, January is the time to take a fresh new look at optimising your growing offer to both traditional gardeners and beginners. Plantpak is about 'Growing your Own', allowing anyone to grow their own produce from garden to kitchen, no matter the size of garden, allotment, balcony or windowsill. Plantpak offers everything you need to get growing with a full range of indoor and outdoor solutions.
The UK manufactured Plantpak cellular propagation range includes thermo-formed seed trays and cell inserts, propagators, growing pots, gravel trays and a windowsill greenhouse. Peat free fibre pots are particularly popular and are available in two sizes in either round or square format.
New for 2018 is the Plantpak natural, heavy duty, fabric Jute Potato Planter, ideal for growing potatoes,
carrots and onions. The planter has an easy access flap for harvesting, reinforced drainage hole and sturdy carry handles for easy transportation. The Jute Planter is 35cm wide and 45cm tall and is PE coated for water retention.
The exciting new Hydro-Pod from Plantpak is a self-watering, self-feeding indoor garden which facilitates fast and easy growing of vegetables, herbs, salad greens and more throughout the year. The top Hydro-Pod has a professional full spectrum LED Grow Light with auto timer for optimum growth schedule all year round. Fast and simple growing without soil.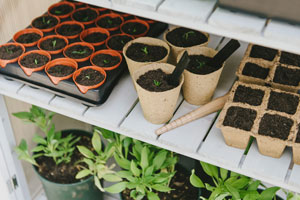 The brand new Plantpak Grow House and Cold Frame in solid wood are ideal for extending the growing season and protecting plants. These brand-new designs recognise that the patio is now seen as an extension of the living room. Not only do they look superb, their performance will satisfy the most demanding gardener due to the professional build quality.
The Plantpak range is available from Crest Garden and is backed up with excellent merchandising material and hard-hitting Spring promotional deals.