DRiBOX, a weather proof connection box for safely housing outdoor electrical plugs, has agreed a partnership with leading Outdoor Living supplier, La Hacienda, to target the garden centre arm of its growing trade business.  The initial launch will be at GLEE from 11-13th September, at the NEC.
Developed in 2012, by specialist lighting firm Festive Lights, the pioneering product is now exported to 37 countries and has a strong presence across the hardwaremarket, thanks to its varied applications for outdoor lighting, electrical hardware, gardening equipment, Christmas lighting and aquatics.
The design incorporates a hinged clamp mechanism that allows immediate access and closure without the need to release or tighten screws. The box features an innovative waterproof interface which encloses cables when clamped to the box and offers one of the highest IP ratings available in this product category.  Available in two sizes, DRiBOX retails in hardware stores, garden centres, electrical stores and is also used by landscapers, installers and local authorities.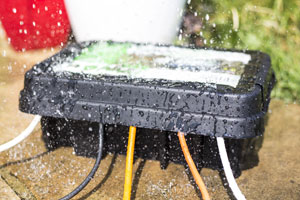 Stephen Alty, Festive Lights general manager, says, "The garden centre market is a big market for us.   Due to the rapid global expansion of the brand, it makes sense to bring a specialist on-board with all the existing contacts and sales and marketing resources at their disposal.  
"We're really excited about this partnership.  As well as having the right customer base for us, La Hacienda is a perfect match since they share the same high standards when it comes to customer service and have an excellent reputation for providing great quality products."
Simon Goodwin, La Hacienda global merchandise manager, says, "DRiBOX has phenomenal growth prospects in the garden centre market and we're delighted to work with the brand.  GLEE will be the perfect springboard and with our 28 years' experience in the industry, we're confident in our ability to help take DRiBOX sales to the next level." 
For further information on DRiBOX, contact sales@lahacienda.co.uk
images