IQ Outdoor Living can provide garden elements including outdoor furniture and patio roofing systems to create the perfect external living space that can be used all-year round. Patio roofs are gaining popularity as they allow homeowners to use their external spaces through all weather, not just in the summer. With the ability to shade, shelter and allow natural sunlight to pass through into each space or home, patio roofs are ideal for maximising the use of the patio at any time of the year.
IQ's Pratic patio roofs have a retractable roof, allowing homeowners to open and close the roof when required. This allows the sun to shine onto the patio area and into the home as well as to provide shade in the summer to prevent overheating and shelter from the rain when closed. Two patio roofing systems are available in our Pratic range including Nomo Rialto and Opera Vision.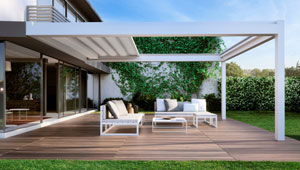 When the retractable awnings of the Nomo Rialto are closed, a watertight patio roof is created. This awning utilises a slim aluminium structure by draining away any surface water to keep the patio dry. The Opera Vision is one of two louvre roof systems from IQ Outdoor Living, providing full control of the climate of your internal and external living spaces. These louvres can be turned up to 140°, allowing you to control the heat and light penetrating through.
Our Umbris patio roof also uses louvres which open and close for the same benefits. When closed, both patio roofs become completely watertight, keeping yourself and your patio furniture dry throughout the year. An array of configurations are available to perfectly suit each space including free-standing, building integrated and floating patio roofs. These systems can be used to shade rear glass patio doors from direct sunlight whilst maintaining vision and views to the entire garden.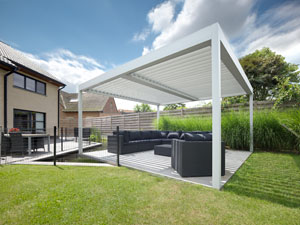 Additional features are available to provide even further weather protection including fixed vertical louvres or awnings, integrated blinds and sliding glass doors. Bluetooth speakers, LED lighting and heaters are also available to allow for comfortable use of the area in cooler evenings.
 

Tel: 01494 722880

Email: hello@iqoutdoorliving.co.uk

Website: www.iqoutdoorliving.co.uk