Tuesday, June 19, 2018 - 11:25
paragraphs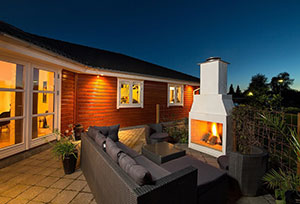 Outdoor living enthusiasts can enjoy entertaining to their hearts' content with the new Garden Fireplace from leading chimney manufacturer, Schiedel Chimney Systems.
Versatile and stylish, the Garden Fireplace creates a stunning central focus for any outdoor living space while keeping smoke at bay, making it the ideal solution to alfresco living, dining and heating; a trend which is set to thrive this summer despite the unpredictable British weather!
It can be freestanding, raised or built against all wall which, along with its relatively small footprint, makes it perfect for even the tiniest of gardens. The addition of a barbeque grill allows this stylish fireplace to double up as an outdoor kitchen.