The UK's largest garden and hardware wholesaler has restated its commitment to customer support with the publication of its 2019 Big Green Book gardening catalogue. This year's annual publication contains a wider range of products than ever before, thanks to a number of major distribution deals which Stax Trade Centres has secured in recent months. These cover lines from major names such as Honeyfield's, Kaemingk and Harris, and they are all featured in the new catalogue.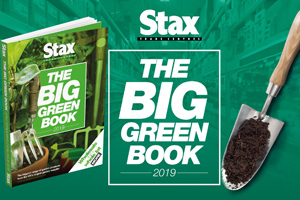 The 328 pages of the Big Green Book bring together products from over 100 of the UK's leading garden brands, and provide Stax garden centre and retail customers with a quick and convenient reference to the huge selection of lines which the company supplies from its six UK branches. The catalogue allows them to browse through over 5,000 products from consumer brands such as Flymo, Evergreen Garden Care, Harris, Town & Country, Wilkinson Sword, Fiskars and Hozelock, as well as the popular Stax own-brand products including the Groundsman range of premium household brushes.
"We recognise that our garden centre customers are selling an expanding range of horticultural lines to satisfy growing consumer demand and we have chosen the contents of this year's Big Green Book accordingly," explains the company's Purchasing Director, Simon Wright.
"At Stax we are always looking to do more to support our independent retail customers and The Big Green Book is just one example of that approach in action. The new book shows the huge range of products that we supply to the market including display stands and merchandising options," adds Simon. "We have recently bolstered our sales team with two new members, both of whom have a wealth of experience in the sector, so we're perfectly placed to provide the type of expert advice our customers need.
"We have seen huge changes in the industry in recent years. We recognise that many garden centres have invested heavily in their business growth and they've become leisure destinations through expanded product ranges, improved facilities and new services. We have helped to support this expansion through the provision of some 40,000 product lines from leading brands in kitchenware, houseware and seasonal categories. Garden centre customers can take advantage of wholesale prices on these categories with their existing Stax account terms."
Stax Trade Centre - The 2019 Big Green Book has products listed alphabetically by supplier and includes a comprehensive product index for quick and easy reference. A detailed guide to the page layout is also featured, giving rapid access to all the information required on each product. To request your free copy of The Big Green Book, please go to www.staxtradecentres.co.uk/BigGreenBook