Tuesday, March 13, 2018 - 14:04
Sunday 08 April has officially been named First Cut Sunday by the makers of UK gardening superbrand Flymo.
The outdoor power product manufacturer Husqvarna Group has identified that annually, the second Sunday in April is the most popular day for homeowners to dig the lawnmower out for the first time and get their gardens ready for the warmer weather ahead.
The gardening favourite has been an expert in its field for over 50 years following the invention of the 'Flymo' hover-mower by Karl Dahlman in 1964, based on a concept similar to that which a hovercraft used. Since then, Flymo has continued to develop more efficient models and the hover technology has come a long way shown in latest innovations with the new, 'easier by design' Flymo Glider Compact 330VC & 330VCX electric hover-mowers.
After the cold winter months and recent snow spell, gardens across the UK may look and feel a little neglected. April provides the ideal time to ensure the lawn has been properly fertilised to boost nutrients, encourage root health and provide the grass with enough energy for the season ahead. Flymo's revolutionary robotic lawnmower, 1200R trims the tips of the grass to let micro clippings form mulch to feed the lawn – the perfect organic fertiliser. 
New in time for First Cut Sunday, Flymo has announced the launch of two new dual mower and trimmer twin packs helping to make light work of the first to the last cut of 2018 – the Mighti-Mo 300 Li Lawnmower + Trimmer and the Speedi-Mo 360C + Mini Trim.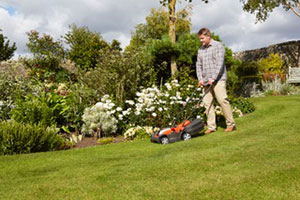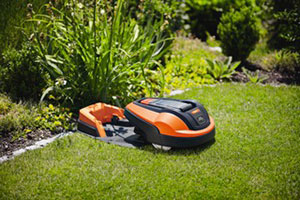 Lightweight, compact and quiet, the cordless Mighti-Mo 300 Li Lawnmower has the capacity to effortlessly mow a lawn up to the size of a tennis court on a single change thanks to the powerful 40V rechargeable, interchangeable Lithium-Ion battery.
The twin pack also benefits from the Mighti-Trim, a Lithium-Ion battery-powered trimmer allowing customers to enjoy the freedom of cordless trimming – no more battling with extension cables as they neaten up their edges.
The new Speedi-Mo 360C and Mini Trim twin pack is well-suited for first time buyers as it includes a powerful, lightweight electric wheeled lawnmower for efficient mowing of small to medium lawns and an easy-to-use single-handed grass trimmer.
Howard Scott, regional director at Husqvarna Group said: "Last year we decided to christen 'First Cut Sunday', a date that we talk about in the industry that marks the start of lawnmowing season. This year it falls on 8 April when we feel is the prime opportunity to begin prepping and tidying for a season of al fresco entertaining and outdoor fun. The science is based on a number of factors including the warmer weather conditions and additional daylight hours, as well as it falling ahead of the first May Bank Holiday.
"Grass is one of the earliest plants to start growing in spring so April is a crucial month in the gardening calendar for homeowners. Our new product range for 2018 will make tasks such as mowing the lawn less of a chore without compromising on performance."
To find out more about First Cut Sunday and to see what Flymo have to offer please visit www.flymo.com