Smart Garden Products are delighted to announce the launch of Three Kings, a new Christmas brand for the 2018 season, with over 60 products to adorn the home and garden,from a warm welcome at the front door to the cosy surround of the fireplace.  
Building on Smart's expertise in solar and garden lighting, this is now being extended indoors with beautiful string lights and lanterns, complemented by a comprehensive range of festive décor and ornaments which will brighten up any home.  
The new range will be unveiled at the Harrogate Christmas and Gift Fair in January, where buyers can come to stand Q58 to discover a collection which has been carefully designed to provide a variety of price-points across multiple categories.  
Jonathan Stobart, Managing Director of Smart Garden Products comments "We felt that the time was right to extend our expertise across all seasons, giving retailers a reason to buy from Smart Garden all year round. This is a modest introductory offer which will be expanded next ye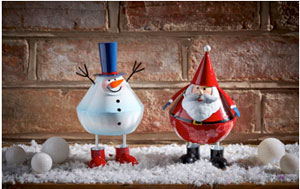 ar and beyond." Fleur Morgan, Director of Category Management adds "It is a really exciting launch for us, and with over 60 products to choose from we feel that we have provided a compelling selection for the festive season".
The range will be complemented by stunning packaging and practical merchandising solutions to suit all spaces, with a full social media programme for consumers planned for Winter 2018.
To find out more about Smart Garden's market leading product offering please visit www.sgpuk.com