Receive free Apple iPad tablets for your garden centre with Crystaline
We're proud to be different. We provide the latest Mobile, Unified Communications, Voice and Connectivity solutions to the Horticulture industry. Having worked within the industry for over 10 years; we're in the best position possible to understand your growing ambitions and plant the seed of success!
Through partnerships with industry leading communications providers, from the network to the handset, we're able to offer garden centres completely independent advice and access to technologies that bring them right up to date, create savings and improve their customer service levels.
Unified Communications
Unified Communications (UC) is the perfect way to enable all your communications, such as Voicemail, Email etc. to integrate with one another. UC means your garden centre will benefit from cost savings and more efficient working.
Discover how we've streamlined communications for Newey Roundstone by installing Vodafone One Net, seamlessly connecting their workforce, any time, any place, on any device. This solution has helped reduce their costs and improve productivity and customer service.
https://wearecrystaline.co.uk/case-studies/
Talk to us to discover more 0344 846 4222 | info@wearecrystaline.co.uk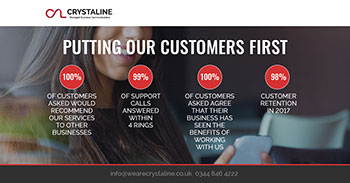 The latest in technology
We bring our customers the latest mobile phone handsets available through our partnerships with all the major manufacturers, including; Apple, Samsung, Nokia, Sony, BlackBerry and HTC. We regularly source those harder to find, more specialist phones; with a dedicated team trawling the market for the latest, innovative products. We also have priority on new product launches meaning our customers will never be without the latest kit.
Browse the latest handsets, here https://wearecrystaline.co.uk/handsets/.
Customer Service
We value our customers and pride our team of seasoned experts on delivering exceptional customer service. This commitment to our customers is met with great loyalty. In a recent survey they agreed that they have enjoyed benefits such as cost savings and enhanced streamlined communication, by working with us and that they'd recommend our IT and Telecoms services to other businesses.
"Before Crystaline, we had multiple sites, locations and contracts across lots of different companies – it was very disjointed. There was a lot that was lost in communication. With the One Net system, the business is now fully connected which means we can capitalise on our always on working environment. They match deals that you may find online, if you've got an issue on site, they will come and resolve it. To be honest, they care. Crystaline take the weight of the problem off our shoulders, saving us a lot of item in cost and management."
Paul Goodale, Newey Roundstone
Exclusive offer!
For every 10 handsets you purchase with Crystaline, receive a FREE Apple iPad 32GB Wi-Fi + Cellular tablet. Tablets are the perfect tool to elevate the customer experience in your garden centres. For instance, offering tablet stations for customers to use provides them with instant green fingered answers as they peruse the pots and plants!