Christmas tree provider ditches artificial trees
Tuesday, December 10, 2019 - 15:40
Christmas tree provider Pines and Needles is going green this festive season by ditching plastic artificial trees from its stores.
Founded by Sam and Josh Lyle more than 20 years ago, the company is joining the global drive to be more sustainable in 2019 by only supplying natural firs grown on its picturesque Scottish plantations to customers.
The trees Pines and Needles will be selling for this Christmas are left to mature for 10 years on average to mature, allowing them to absorb carbon as they grow.
The brothers believe this is a step in the right direction to making sure the holidays don't affect the environment for generations to come.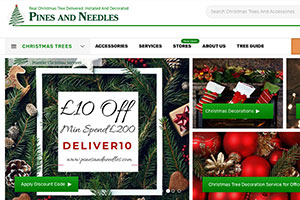 "Customers are becoming more conscious about the footprint of what they're buying and so are we," said Sam.
"We felt that our stores should emulate that desire to be a little greener and a little better for the planet." 
As well as a traditionally felled Christmas tree Pines and Needles also stocks live trees.
According to The Carbon Trust, a tree's carbon footprint is reduced by 80% if it is repurposed as opposed to if it is left to degrade.
"It is estimated that an artificial tree will take over 500 years to degrade so purchasing a live tree that can be replanted is much more environmentally-friendly," said Sam.
"A real Christmas tree can be repurposed in so many different ways to ensure you're doing your bit for the planet - the possibilities are truly endless."
Pines and Needles already offers its customers a collection and recycling service, which allows thousands of trees to be repurposed into chippings for attractions such as Kew Gardens and London Zoo.
The company also has further plans to make its practices even more sustainable in the future.
"We are also exploring biodegradable nettings for the trees to ensure our product can be fully recycled in the next few years," said Sam.
"There's so many exciting new ways to go green and we're happy to play our part in whatever way we can."
For retailers, the large Christmas tree installation and decoration service is also a great idea – why not get some extra help at your busiest period by asking Pines and Needles to create a winter wonderland in your store?
For more information of trees on offer, please visit pinesandneedles.com