Wednesday, February 19, 2020 - 10:31
Leading quality wild bird and pet food producer, Henry Bell & Co, has opened a product showroom close to the company's headquarters in Grantham. Retailers will be able to review Henry Bell's full extensive range of products and POS solutions displayed in a retail environment.
Henry Bell Wild Bird Care launched in July 2019 with 120 quality products catering for every type of garden bird, all designed with health and wellbeing of birds in mind. The family-owned wild bird and pet food producer has over 20 years' experience in the bird food industry and has been pivotal in the growth of many private label wild bird food brands. Henry Bell has also made sustainable packaging a priority with all their Wild Bird Food packaging being 100% recyclable whilst protecting the integrity of the elements inside each bag.
The Grantham showroom will also allow retailers to review Constant Garden Collection, a new premium range of faux plants for the home and garden. Following a trade launch last year, Constant Garden has over 60 products in the range including a variety of plants and flowers with realistic designs, colours and textures that look as good as real botanicals. From faux roses and orchids to bamboos, grasses and hanging flower baskets, the stunning range features indoor and outdoor options that are designed to stand the test of time.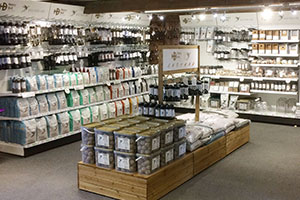 Thomas Lee, Managing Director of Henry Bell, comments: "At Henry Bell we are focused on excellence. Our new product showroom has been designed with the retailer and consumer at heart. We wanted to provide retailers with the unique opportunity to review our extensive range of products, innovative displays and POS solutions in an unsurpassed retail execution. Henry Bell brands offer comprehensive core ranges and numerous opportunities to drive sales through volume and promotional activity across various key categories. Our showroom doors are now open, so we hope to host many existing and prospect retailers in the coming months."
The Henry Bell showroom can be found within minutes of Grantham train station with on-site parking available. Visitors to the showroom will be able to meet with the Henry Bell sales team to discuss any requirements in more detail.
Henry Bell Wild Bird Care is available at Dobbies and selected independent garden centres, pet shops and retail outlets nationwide. Constant Garden Collection is available from garden centres and mainstream retail outlets.
For more information please visit www.henrybell.co.uk 
or contact PR Consultant Roxane Nichols on
E: roxanenicholspr@gmail.com | M: 07778 234 751