Michael Wooldridge, director at Woodlodge, tells Garden Tase Specialist about the family business which distributes products to over 2,000 garden centres and retail outlets nationwide.…
"Woodlodge is the UK's leading supplier of garden pots, with a reputation for excellence and expertise in the design and distribution of gardenware. The family business has been trading since 1987, prioritising quality and end-to-end customer service."
"Our flagship range of classic garden products is called Heritage Garden: a combination of British culture, craftsmanship and the highest-quality materials. Inspired by traditional gardens and the nation's love of horticulture, this exclusive range includes prestigious pots, planters, stools and birdbaths that combine traditional design with contemporary style."
"We are known for our wide selection of attractive outdoor pottery, each year we refresh up to a third of our range. Our product offering has expanded to include pottery made from new materials, including our Feather range made from 100% recycled plastic. We have also diversified into the Outdoor Living sector, with comfortable furniture and rustic fire pits."
"We are driven to support garden centres' needs, requirements and expectations. With over 50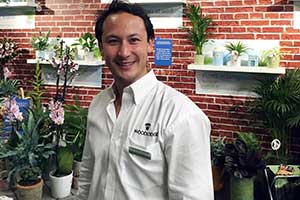 representatives and product merchandisers across the country, we are able to dedicate our time to you, wherever you are, to give you an experience that is second to none."
"Our primary aim is to design, create and maintain a wide range of attractive and innovative products to be enjoyed in gardens and homes everywhere regardless of size. We offer a fast and reliable national delivery service thanks to our Woodlodge fleet of over 60 vehicles. "
"To complement our quality products, we offer effective benching and stunning point-of-sale to make your displays stand out and attract consumers. We also offer an un-rivalled national merchandising service to efficiently and effectively display our products for you throughout the year."
"We will be exhibiting at Solex in July, as well as Four Oaks and Glee in September. The stand details will be announced soon on our Twitter page."
• Click here for the full Woodlodge range.