Monday, June 18, 2018 - 10:55
A NEW PLANT which has been bred in Worcester and is being grown in Hereford has this month (June, 2018) been entered in to the Horticultural Trades Association (HTA) National Plant Show's New Plant Awards.
Wyevale Nurseries has submitted Veronica spicata 'Pink Passion' as well as Hydrangea 'Magical Charlotte' and Salvia 'Kisses & Wishes' to the awards, which take place on June 19 and 20 in Warwickshire.
Adam Dunnett, Sales & Marketing Director at Wyevale Nurseries, said:
"Veronica spicata 'Pink Passion' is a local treasure, hailing from Chris Smith of CS Plants in Worcestershire. Chris is a young and local plant producer and we are delighted we have been able to partner up with him. Veronica spicata 'Pink Passion' is exclusive to us and it thoroughly deserves a New Plant Award. We have entered it in to the Herbaceous perennial category. Veronica spicata 'Pink Passion' flowers all summer, keeps a compact shape and has exceptionally clean, disease resistant foliage. Its neat shape means moving and bedding down of the plant is kept to minimal effort."
"This plant is the ultimate impulse buy coupled with low maintenance, perfect for the amateur gardener. The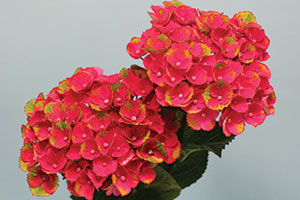 fantastic blooms of shocking pink will stand out in any border for the whole summer. The natural strength and resilience of this plant means that it will not be affected by the typical garden diseases. This high-quality plant will survive full sun or part shade in moist to well-drained soil. "
"An added bonus is the low carbon footprint associated with this gorgeous plant – British bred and grown all within two counties."
Hydrangea 'Magical Charlotte' has been entered into the Shrubs & Climbers category. It is a new addition to the world famous Magical Seasons range. Charlotte provides a striking dash of red as an improvement to Hydrangea Magical Amethyst. Like the rest of the series this robust plant offers strong, striking features with architectural structure.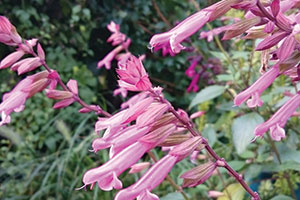 Adam added:
"The strength of the plant means that stems grow thick and fast, supporting the impressive flowering heads. This additional natural strength means less work on the nursery picking up fallen over plants, which can be an issue with other Hydrangeas. The flower buds are easily visible and develop quickly making the plant extremely marketable from an early stage."
"The Magical Four Seasons lives up to its name with flower colour and shape from May to November, an incredibly long time. The maintenance is minimal as well, with only deadheading required, no need to prune back as the plant will grow to a tidy 1m in height and width."
Wyevale Nurseries has also entered Salvia 'Kisses & Wishes', which was bred by Sarah and John Knott from Plants For Europe Limited in Uckfield, in to the Herbaceous perennial category. This plant is a new addition to the Wish Series. The bright pink flowers sit on the end of stems, which will grow to 80cm high by 50cm wide.
Adam continued: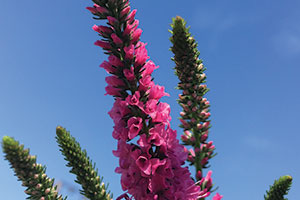 "This strong addition to the series accompanies the existing colours perfectly. This Salvia has very distinctive features and colouring making it hard to miss. This plant provides an abundance of growth from the get go, it has an architectural branching shape which when coupled with the bright pink flowers produces a stunning plant ideal for patio potting or in borders."
Salvia 'Kisses & Wishes' has an extremely long flowering season, May until the first frosts. No dead heading is needed for this perennial as the old flowers will fall off on their own. This Salvia is adored by bees and pollinators and would play a key role in any environmentally-friendly garden.
Adam added:
"We are also excited to be launching 50 new plant promotions at the HTA National Plant Show. Examples of plants featuring for the first time include Yucca gloriosa 'Bright Star', Lomandra 'White Sands', Geum 'Pink Petticoats', Hardy Japanese Orchids (Bletilla), Digitalis 'Goldcrest' and Echinacea 'Delicious Candy', which is featured on the front cover of our new catalogue. To find out more about our new plant promotions, please visit our stand at the show."
To view the new plants entered into the New Plant Awards, please visit the Wyevale Nurseries stand, which is 31/38. The product selection available from Wyevale Nurseries is enviable across the industry and the talented team regularly introduces new, award-winning plant varieties.
Its main business is to supply garden centres, landscape contractors, local authorities, foresters and landowners with a comprehensive array of trees, shrubs, hedging, herbaceous and specimen plants.
For further details about New Plant Awards or Wyevale Nurseries, which is based in Hereford, please call 01432 845 200, visit www.wyevalenurseries.co.uk, follow the company on Twitter at www.twitter.com/WyevaleNurs or log on to