Thursday, August 3, 2017 - 10:09
For those of us who aren't lucky enough to be born with green fingers, the garden can be an intimidating prospect. It requires knowledge, creativity and patience to truly take advantage of the space. We caught up with the lovely people at GBC Group, the UK's premier retailer of quality garden and leisure buildings, who gave us their advice on how to make the most out of your garden space.
Patio
Whilst placing a patio in your garden may feel like you are unnecessarily using up space that could be used to grow beautiful flowers, a patio actual transforms your garden into a dual-purpose space. Creating a patio area provides a designated space for dining and entertainingwhilst still leaving you with plenty of greenery to enjoy.
After you have laid the patio of your choice simply add a garden dining set, BBQ, outdoor lights and perhaps a few potted plants to brighten up the space. You can then spend hours entertaining, whilst looking out on the rest of your garden. 
Summerhouse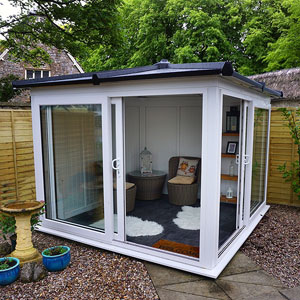 Many people choose to install sheds in their garden, but more often than not, these spaces become a huge junk room, used to store the various bits and bobs that are too big to be kept in your house. Instead of a shed, why not invest in a summer house. 
The possibilities for this extra space are endless, the room can be turned into anything you want; a space to read, to paint, to work out, or simply a quiet room where you can get away from the hubbub of your house.  At GBC we have a huge range of beautiful summerhouses for sale – you are sure to find one to suit your requirements and taste. 
Grow Your Own
Whilst growing your own fruit and vegetables may seem like a daunting task to the gardening novice, it can actually be quite simple, especially if you start off small. You can start by growing your chosen fruit and veg in pots – salad, beetroot and soft fruit bushes are perfect. 
Once you have got the hang of the pots, you can then progress to a small soil bed, making sure you choose the right vegetables for the spot, as some thrive better in partial shade, whilst others prefer full sun. 
If fruit and vegetable growing feels too intimidating, then you can always begin with herbs instead, and create your own herb garden.  
Embrace Nature
Bring nature to your garden by putting up bird feeders and hanging fat balls. You also need to make sure you put out fresh water for the birds as well. If you want to create a feature foryour garden, then installing a bird table in the centre of your garden not only looks gorgeous, but it will be an enjoyable spot to look out onto and watch the birds congregate. 
Use Your Walls
Especially in smaller gardens, utilising everything on offer is a great way to maximise the space, this includes the walls. Attach a trellis to the wall and plant flowering vines in the beds underneath. Vines like the fragrant lonicera periclymenum, commonly known as honeysuckle, with its gorgeous yellow flowers make a beautiful climbing plant, along with the clematis. Or, for a shady wall, you could try the akebia quinata, also known as the chocolate vine, which has five-lobed leaves and scented brownish-purple flowers in early spring, sometimes followed by fleshy purple fruits.