Monday, November 13, 2017 - 14:12
Hillier has announced the Christmas trading plans for its 12 garden centres, all themed around The Magic of Christmas.
The busy calendar launched yesterday (9th November) with each centre hosting an exclusive, invite only preview evening where guests got a sneak peek of the Christmas displays,products and offers.
Carol singers were at each centre to entertain guests whilst they tasted the new festive menu, drank mulled wine and perused the decorations, plants and giftware on display. Each centre also launched its 'tradition tree', where shoppers are invited to write down their favourite Christmas tradition and hang a copper tag on a special tree in the centre – a spinoff of the popular Memory Tree which was part of Hillier's award-winning Chelsea Flower Show garden in May 2017.
During the festive period, all garden centres will be offering workshops for people to take part in. During wreath making workshops knowledgeable centre staff will be teaching participants how to make their own festive wreath to take home with them. There are 1,200 slots available, a quarter of which were filled within days of bookings going live. 
In November and December, Hillier's Development Chef, Chris Search, will be hosting a cookery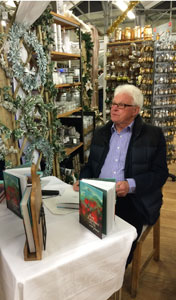 demonstration at five Hillier centres, showing guests how to make delicious party canapes and drinks. These are taking place at the Newbury, Horsham, Chichester, Sunningdale and Eastbourne centres.
In addition to this, for the first time at Christmas, customers are now able to reserve a table in participating Hillier restaurants for a special Christmas lunch.
Hillier has also announced two initiatives to raise money for its charity partner, Wessex Cancer Trust. Ten centres will be selling boxes of luxury mince pies, baked on site by Hillier chefs, with 50p from each box sold going to the charity. Shoppers at all centres are also invited to purchase a food or drink item in the centre and donate it at the drop-off points in store and Wessex Cancer Trust will use these as part of their support centre Christmas parties.
Throughout November, members of the Hillier Gardening Club will be able to enter a prize draw to win a 6ft Christmas tree, along with lights and £150 worth of decorations from Gisela Graham. There will also be the "12 giveaways of Christmas" on the Hillier Garden Centre Facebook page with a daily prize being revealed from 1st to 12th December.
Discussing the Christmas activity, Shelley Turner, Hillier's Head of Marketing, who started with the company six months ago, commented: "There are three core values underpinning Christmas at Hillier this year – tradition, getting ready for the big day and bringing people together. These all come together and have inspired our Magic of Christmas theme. We spoke to our customers about what makes Christmas special for them and the overwhelming response was that it isn't about presents and Santa, but is instead about traditions and spending time with loved ones so we wanted to incorporate this into our plans in the centres."
For more information about #HillierXmas please visit www.hillier.co.uk, where you will also find festive news, inspiration and a series of Christmas themed "how to" guides.