With the summer weather approaching, many of us decide to test out our green fingers and become more self-sufficient by creating our own kitchen garden. Whether this is a selection of indoor herbs, or a vegetable patch in the garden, often lack of expertise can end up killing off any sign of life.
Luckily LECHUZA, creators of self-watering planters, have created plant pots with a sub-irrigation watering system which means your home grown herbs and vegetables will stand the test of time. The integrated water reservoir supplies the plant with the right amount of water for optimal health and growth – you just need to water for up to 12 weeks allowing the roots to grow into the resevoir. Combining attractive, contemporary designs with maximum functionality and new plant innovations, you will no longer need to repeatedly purchase those much needed herbs or vegetable seeds.
When it comes to keeping plants alive the number one killer of herbs and vegetables is over watering. This is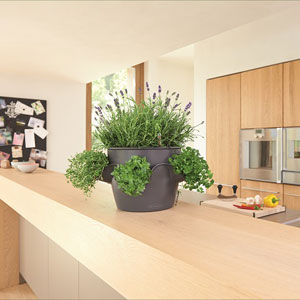 where the sub-irrigation system of LECHUZA plant pots helps, meaningyou can measure exactly how much water is needed and when the time has come for a top up is. Many ranges also have the capacity to fit multiple plant liners within each planter, perfect for potting a variety of plants that may have different needs.
For those who are challenged for worktop space in their kitchens, the CASCADINO Color is the perfect solution for creating your own indoor garden. This hanging planter can be hung simply from any area. Only taking up 14 inches of space, and holding up to six plants per planter, you can grow your tomatoes next to your rosemary whilst still keeping your basil and sugar snap peas alive too. 
If you're lucky enough to have a bit of extra space, then the BALCONERA Cottage is a great planter for cultivating herbs and vegetables. With two plant liners you can grow multiple herbs from one planter. 
Jamie Dickinson, LECHUZA Marketing Manager, said: "It's not always easy to cultivate your own herb garden, especially when you're trying to look after more than one at the same.Thanks to the self-irrigation system of LECHUZA each herb and plant gets the exact amount of water it needs to flourish."
For more information or to purchase a LECHUZA product visit www.lechuza.co.uk