Garden Centres from across the country have scooped awards at a prestigious industry ceremony.
The Garden Centre Association's (GCA) 52nd annual conference was held last week and awards were presented to the member garden centres during a ceremony at The Crowne Plaza Hotel in Stratford-upon-Avon.
Iain Wylie, Chief Executive of the GCA, said: "It is clear that all of our winners have worked extremely hard during the past year to reach and maintain the very highest of standards in garden centre retail excellence and I'd like to take this opportunity to congratulate all of them. Our inspectors were extremely impressed with their achievements."
The GCA represents nearly 200 garden centres nationwide. Through sharing information and its inspection programme the GCA helps members to achieve high standards in customer service, plant quality and reliability.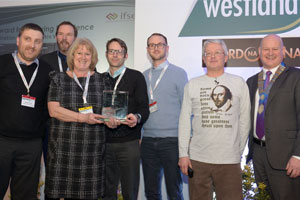 The full list of winning garden centres were:
Christmas Competition (Garden Centre category) sponsored by Gisela Graham – Castle Gardens, Dorset

Christmas Competition (Destination Garden Centre category) sponsored by Gisela Graham – Bents Garden & Home, Warrington
Environment and Community Award – Stewarts Garden Centre – Christchurch, Dorset
Ruxley Rose (Garden Centre category) – Cowell's Garden Centre, Newcastle upon Tyne
Ruxley Rose (Destination Garden Centre category) – Bents Garden & Home, Warrington
Barton Grange Trophy for Commercial Creativity and Innovation – Bents Garden & Home, Warrington
Customer Service Award – Best Customer Service – Barton Grange Garden Centre, Lancashire
The Indoor Lifestyle Award – Best Indoor Lifestyle Retailer (Garden Centre category) – Stratford Garden Centre, Warwickshire
The Indoor Lifestyle Award – Best Indoor Lifestyle Retailer (Destination Garden Centre category) – Barton Grange Garden Centre, Lancashire
The GIMA Award for Best Garden Products Retailer (Garden Centre category) – Fairways Garden Centre – Ashbourne, Derbyshire
The GIMA Award for Best Garden Products Retailer (Destination Garden Centre category) – Barton Grange Garden Centre, Lancashire
Dick Allen Award (Most Improved Garden Centre) – Webbs, West Hagley, Worcestershire
The ifse Award for Catering Excellence – Best Garden Centre Restaurant (Garden Centre Category) – Fron Goch Garden Centre, Gwynedd
The ifse Award for Catering Excellence – Best Garden Centre Restaurant (Destination Garden Centre Category) – Webbs, Wychbold, Worcestershire
Weber Outdoor Living Award – Best Outdoor Living Retailer (Garden Centre Category) – Stratford Garden Centre, Warwickshire
Weber Outdoor Living Award – Best Outdoor Living Retailer (Destination Garden Centre Category) – Gordale Nurseries, Wirral
For further details about the GCA conference, see gca.org.uk
images