Thursday, November 9, 2017 - 15:20
THE NEW autumn/winter season saw garden centre customers stocking up on warm clothing and accessories during September (2017) according to the Garden Centre Association's (GCA) Barometer of Trade (BoT) report.
Total sales in clothing departments across GCA member centres was up 32.24% compared to the same month last year (2016).
Iain Wylie, GCA Chief Executive, said: "It's no surprise that as the weather began to turn, customers at our member garden centres stocked up on cold and wet weather gear in preparation. These days it's not just gardening attire that is sold, but customers can get their hands on lots of different brands and styles of clothing, shoes and accessories. Now they're now all set for the colder weather to set in!
"Another good performer during the month was Christmas, with sales up 23.64% compared to the same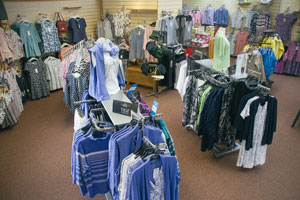 month last year. While many think it may have been too early to start preparing for the festivities in September, lots of people do like to get prepared well in advance, as these figures show.
"We expect sales in this area to increase further in the lead up to December, especially as many of our member centres have begun launching their festive displays and special Christmas events."
Houseplants sales also performed well, with sales up 15.59%. Catering was up 7.84% and pets and aquatics sales were up 3.69%.
Food hall and farm shop sales were up 1.9%, gifts were up 2.67%.
Iain added: "Due to the season, and as to be expected, furniture and barbecue sales were down -12.61%, garden sundries were down -0.91% and seeds and bulbs were down -2.38%. Hard landscaping sales were also down -4.57%, but outdoor plant sales were up 2.85%."
The GCA BoT reports are compiled using actual sales figures and provide an up-to-date trading position statement. They are made available mid-month following the end of the prior month after all member garden centres have submitted their results.
Member garden centre sales showed an average overall increase for the month of 4.44% and a Year to Date growth of 2.87%.
Anthony Jackson, Partner at Bernaville Nurseries in Exeter, said: "September produced a mixed set of results for Bernaville Nurseries. Gardening departments including outdoor plants, seeds and bulbs and hard landscaping suffered while others such as catering, houseplants, and clothing performed really well.
"The overwhelming success for us was Christmas with sales increasing by over 76%. We hope this is a sign of a fantastic festive season ahead."
The BoT reports allow members to compare their trading positions with other centres.
The GCA represents nearly 200 garden centres nationwide.
For further information, please call 01244 952170. Alternatively, please visit www.gca.org.uk, log on to www.facebook.com/pages/GardenCentreAssociation or follow the organisation on Twitter at www.twitter.com/GC_Association.