Flopro Professional Range is being launched to meet consumer demand for a highly styled, quality range of metal products. The range includes a Hose Cart and Reel, Spray Guns, Sprinklers, Connectors and Nozzle plus two high quality Hoses.
The Professional Hose Reel can be wall mounted or freestanding, has an easy to wind handle designed to ensure the hose does not kink or twist when winding. The high quality stainless steel and aluminium construction is also rust resistant and comes with a 5 year guarantee.
Sleek metal and soft touch rubber Spray Guns are very comfortable to use and the water flow is fully adjustable with one hand. The Professional Jet Spray Gun has 3 spray patterns – jet, mist and cone, the Multi Spray Gun has 8 spray patterns and both have a silver chrome male adaptor for enhanced durability.
The Tripod Sprinkler provides substantial watering at adjustable heights and is ideal for watering lawns, beds, borders and tall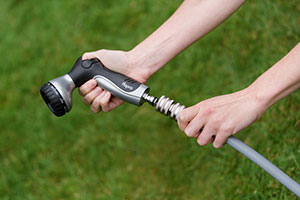 plants and shrubs. Legs are adjustable for desired height and provide area coverage of up to 23m diameter. The sturdy metal construction has weighted legs, heavy duty metal impact head, a goose neck hose attachment and ante-backsplash arm.
The sprinklers, connectors and nozzle have been designed for extended life and are manufactured from metal for improved durability. They come with a 10year guarantee,
Come and visit the Flopro stand at Glee (Crest Garden 7G50-K51) to see the full range and supporting POS material.