Wednesday, January 15, 2020 - 10:22
TREADSTONE PLACES UNIQUE 'SAFETY DNA' OF CLIPGLOVE RANGE AT RETAILERS' FINGERTIPS
Treadstone Products has just launched a range of Industrial Safety Gloves, showcasing the expertise and technology behind the company's ground-breaking ClipGlove gardening gloves. The industrial division will ensure a continued new product development stream, bringing its know-how to the ClipGlove range. At a time when there are so many 'me too' gardening glove products on the market, this affords stockists much-needed enhanced sales opportunities. 
The new range of high quality safety gloves will be used in manufacturing and heavy industry. During the course of their development Treadstone worked closely with safety product experts both in China and the UK. The result of this partnership is embedded in the ClipGlove range in the form of what one might call the 'professional DNA' of ultra high-spec safety gloves. 
Commenting on the launch of the new range,
Dean Winters Treadstone's Head of Brands commented:
"When we launched ClipGlove at Glee 2018, we spoke about the 'Industrial DNA' contained within this fabulous new innovative range of garden gloves. We were therefore very proud to launch our full Industrial Range of Safety Gloves upon the world at A+A in Dusseldorf." 
Tony O'Donovan, European Sales Manager of Treadstone Safety added: 
"A+A is the largest global trade fair for occupational health and safety. It's been two years in the making, but the reaction to our new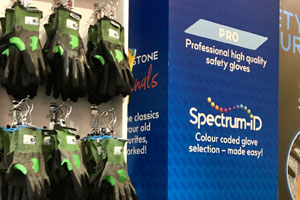 Safety range has been extremely positive, with new distributors and agents from all corners of the continent keen to come on board."
ClipGlove gets its name from the addition of an aluminum Carabiner clip, which keeps glove pairs together when being stored away so that they do not get lost. Retailers appreciate the clip and how it prevents torn header cards and allows consumers to try on both gloves easily in store plus of course how it enables the gloves to be clipped to the user's belt, ensuring they are always to hand.
The premium range has a RRP starting at just £3.99. Available in two colour palettes, and light, medium and heavy-duty options, the ClipGlove range has a pair to suit everyone from the occasional to the keen gardener.
Supporting the range are two new promotional glove concepts, alongside a space-efficient backwall merchandising unit. The new promotional concepts include 'Triple Pack' deals of 48 packs supplied in a high-impact branded dumpbin; and 'Clip Strip' deals supplied with eye-catching header cards.  
Retailers interested in working with Treadstone Products can contact the company on 01978 664 667 or email sales@treadstoneproducts.com or for more information, visit www.treadstoneproducts.com.