How the pandemic changed the way customers shop at garden centres
Thursday, March 4, 2021 - 09:30
We are nearly a year into the Covid-19 pandemic and its restrictions. It is needless to say that the virus caused an extreme effect on the garden retail industry with many stores forced to close several times during the different lockdowns. During these lockdowns, many consumers switched their spending to online platforms. Leading online marketing provider Garden Connect provides services to many garden centres to improve their online sales channels. 

Rise of online sales

Surveys show the restrictions have sped up the changing shopping habits for customers. Edwin Meijer, marketing director at Garden Connect explains: "At Garden Connect we have seen a steady rise in online sales ever since the company was founded back in 2002. But during the Covid-19 pandemic, garden centre webshops broke record after record in online turnover with hundreds of orders coming in on a daily basis."

A research commissioned by Visa this summer shows that nine out of ten Britons (89%) have used online shopping since the UK's lockdown restrictions came into force. With 31% of the Brits purchasing products via e-commerce for the first time. 34% of these customers are now saying they would prefer shopping online over  a physical retailer.

Emergency webshops for garden centres

During the beginning of the pandemic Garden Connect quickly realised that many garden centres without a proper webshop would be suffering huge consequences when they were forced to close. In order to help our customers that wanted to move to online quickly, a so-called 'emergency webshop' was developed.

In normal circumstances it would take approximately 2 to 3 months to get a full webshop up and running. Since every webshop is developed bespokely and no templates are used, it takes time to discuss requirements, development solutions and to make integrations with third-parties like EPoS providers.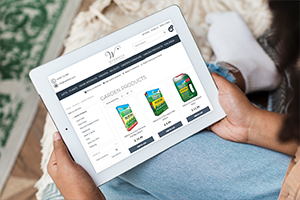 Sjors Hemmen, business developer at Garden Connect explains: "With the emergency webshop this extensive process was fully skipped. For Garden Connect customers this meant their new webshop was online in a timely manner in just under 3 weeks with a full operational webshop."

Interest in online sales

During spring and summer 2020 Garden Connect delivered dozens of webshops, allowing garden centres to continue trading even though they were closed or at least not open to their full extent. Every single retailer confirmed that having a tradable online presence helped them to allow their customers to continue shopping at their favourite garden centres. Even when customers were not able to visit the garden centre for reasons like self-isolation, social distancing or closed centres.

As the pandemic continues, Garden Connect added the successful Emergency Webshop package' to our list with standard services as a Baseline Webshop'. During the last months the uptake on new clients that started a webshop continued since the rise of online sales isn't slowing down at all. 

Currently there are still a couple of slots available for the upcoming months for Baseline Webshops. Please do feel free to contact Garden Connect if you would like to learn more about this unique opportunity.