Friday, February 7, 2020 - 11:35
Gardeners in the UK can now manage weeds in an organic, natural way with the launch of an innovative new weed prevention product from Westland. 
'Resolva Weed Preventer' is a first in the UK marketplace, offering gardeners an organic, timesaving, preventative solution to weeds. The highly effective new product is made from 100% plant based natural ingredients and is safe for both children and pets.
Research shows that whilst gardeners enjoy a certain amount of weeding, it can be frustrating if it gets too much.  Resolva Weed Preventer is proven to stop weeds before they start, reducing the need for hand weeding in beds, borders and vegetable patches by preventing weeds' seed development and establishment.   The product is simply sprinkled on bare soil then watered in to provide six weeks of protection after application.   It does not damage established plants.
Keith Nicholson, Marketing Director for Westland commented: "Westland is delighted to bring this innovative new product to market which offers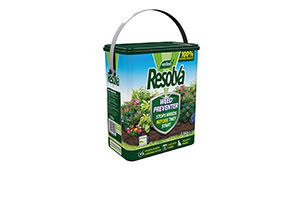 gardeners an organic solution to the management of weeds. With gardeners becoming more environmentally conscious and keen to cut down on the use of chemicals, this offers a practical and proven solution which stops weeds appearing in the first place. Resolva Weed Preventer will be of particular interest to gardeners with children or pets, as the formulation is safe for both.  It will also tick a box for gardeners who want to take control of weeds in the garden and free up more time for other gardening tasks."
Resolva Weed Preventer comes in a 2.5kg environmentally friendly tub with scatter scoop.  For further information please visit www.gardenhealth.com.