Wednesday, January 22, 2020 - 16:57
Garden Trade Specialist Victoria Galligan tried out a brand new gardening product and says both traders and their customers will love it.
Brand new to the market, Vuba's patented gardening product is nothing short of genius. Designed especially for house plants, Easihold is a spray which sets stones that have been laid on top of soil – and it's completely permeable, allowing users to water and feed plants as usual.
If, like me, you've got young children who like to play with houseplants and find the taste of soil delightful, or have pets who are partial to knocking over a potted plant every now and again, then this really is a must-have product.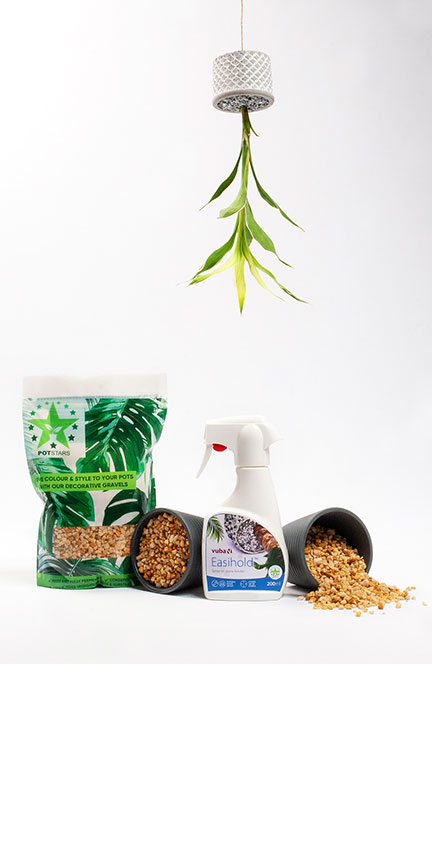 Met with a mysterious delivery from Vuba in the office this week, I opened the box and was intrigued when I read the product description. So I simply placed the gravel on top of the soil which my potted plant was stood in, sprayed and waited 24 hours for the product to set.
Easihold is a resin binder which fixes the gravel into place. It can also be used outside, and I couldn't help but think of the possibilities of this product! Everywhere you go nowadays – hotels, shopping centres, parks – there are potted plants and flower beds, often topped with decorative gravel which can be a real pain to sweep up when it gets disturbed. With Easihold, caretakers all over the world will save precious minutes every day – as will harrassed parents! It's a winner in my book.
And the starter kit is only priced at £11.65 – this comes with a 200ml Easihold spray and 1kg of decorative aggregates. Money well spent, just to avoid those messy spills and unsightly bits of stray gravel.
Traders can get in touch regarding bulk buys by calling 01482 778897.
For more information about Vuba Easihold, see vubaresinproducts.com.