Miko Greetings
Wednesday, October 7, 2020 - 15:21
A blank sheet of paper. That's how the creative Miko starts his day. That's scary! Knowing when to stop is even scarier! Miko has spent a lifetime practising his art and experimenting with various approaches, styles, using all kinds of medium. Ask him if he's satisfied with his latest creation and he will always say 'No!' So when does he know when to stop? 'It's called a deadline, otherwise I would go on for ever changing this, adding that!'
Miko dreamed of being an actor and went to Art College while he was waiting to get into Rada.

As well as being Head Boy at a private school for 'the sons of gentlefolk', he was tops at art. But art be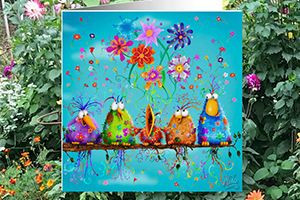 came his passion, so acting and Rada was put to one side.

Life can be fortuitous… Miko became a professional artist and although he didn't become the actor he dreamed of, he has appeared in some well known films and TV soaps and plays as an 'extra'. Rush, East Enders, Holby City, Trollied etc. Oh and he worked in a circus, travelling across Northern Italy, selling newspapers in Paris, and crewed on a millionaires yacht in the Mediterranean… but that's another story. 

So, working at a variety of studios and Art Director animator in Australia,on returning to the UK he decided it was time to do his own thing and become self-employed. With all its ups and downs, it's never boring and he found himself specialising in advertising, creating the Nat West Pigs money box family, Melvin Money Spider for The National Savings Bank, Rumbelows characters, the newspaper strip for BT's Buzby, the 'Red Nose Day' tomato character, National Health Look After Your Heart campaign etc etc., so many. He illustrated for magazines and newspapers including Accountancy Age, Financial Times, daily political cartoons for The Evening Standard and more…

Miko has written and illustrated children's books and been commissioned to create posters for Scandecor and greetings cards for Hanson White and global Pictura.

Miko loves to share his knowledge and creative experience and has run workshops in the Satchi Gallery and Dulwich Picture Gallery, and visiting schools as an Author/Illustrator.

Also one to one and more tutorials from his studio.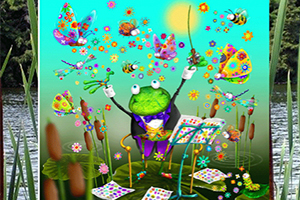 Miko continues to take on commissions, as well as creating his unique giclee and poster art prints.
He has this lovely little helper in the studio. He knows everything about gardens and gardening and we include a lot of flowers in our Miko Greeting cards. When we have a problem, we just ask our 'Little Green Fingers' 

He is also a very happy smiley guy. 

As you can see in Miko Greetings creations cards of flowers and colours and big warm smiles, we love sharing the happiness.
www.miko-greetings.com | 02086931011 | 07957395739 | mik@miko-greetings.com