Thursday, February 27, 2020 - 13:19
Westland Horticulture will launch the biggest ever advertising campaign for peat-free compost this spring, investing £1.5million in a New Horizon™ TV campaign.
Westland's New Horizon campaign, developed under the theme "Greatest Grow on Earth", is a celebration of growing. The campaign, which is set to reach 20 million households from April this year, forms part of Westland's commitment to lead the move towards more sustainable growing media products and promote peat-free or heavily peat-reduced products across all its communication channels in 2020.
As part of its peat reduction strategy, Westland has invested £35 million into developing p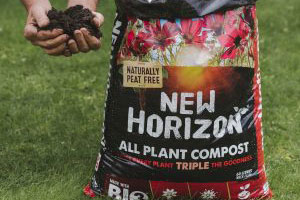 eat alternatives over the past 18 years and has also  spent £5 million promoting peat-free and peat reduced alternatives to consumers since 2007.  
New Horizon™ has been developed using Westland's latest advancement in peat replacement technology, BIO3™.  It will be the first peat-free compost to be advertised on TV, and Westland believes it could become its best-selling compost ever.
Keith Nicholson, Marketing Director for Westland commented: 
"New Horizon is the result of 18 years of research and development and represents a game changer in peat-free compost. Consumers no longer have to make a choice between performance and sustainability. First and foremost, this is a high performing compost which offers excellent growing for gardeners.  
"We are really excited about New Horizon and its growing potential, and this campaign will help spread the message that gardeners can make a sustainable choice without compromising on performance."
New Horizon™ comes in three varieties – all plant, all vegetable and a tomato planter https://www.gardenhealth.com