Japanese knotweed, couch grass, giant reed, giant hogweed, marestail, horsetail, Himalayan balsam… the list of aggressive weeds and all the expensive and ecological damage they can cause can seem like a nightmare. But landscaping professionals can rest easy: newly optimised Plantex® Platinium delivers the long-lasting resistance required, without the need for toxic herbicides or mowing. 
A high-performance landscaping fabric that has been thoroughly and extensively tested, DuPont™ Plantex® Platinium now has further enhanced manufacturing technology for even greater protection. Plantex® Platinium forms a highly-effective, chemical-free barrier against weed penetration, while also being permeable to air and water and so enhancing soil health and stability. Easy to install, Plantex® Platinium offers very high tensile strength and comes in two convenient widths for a variety of site areas and needs. 
Proven performance against invasive weeds
Invented and manufactured by DuPont, Plantex® Platinium has undergone numerous and rigorous tests by the company's Research & Development team. Over several years and in natural environments, it has demonstrated powerful resistance to weed penetration, while observations in the field have led to further improvements in its manufacture and application.
"DuPont originally developed Plantex® Platinium with a special focus on Japanese Knotweed, to address the increasing problem of invasive weeds spreading across Europe," explains Carl Festré, EMEA Marketing Manager, Typar® and Plantex®,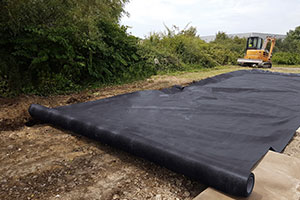 "the next phase has been to optimise and diversify the product, tailoring it carefully to more specific requirements or applications."
In terms of the standard Plantex® Platinium product this has been achieved by:
Giving the fabric an enhanced surface structure through the addition of a special bonding treatment that generates even greater resistance to Japanese Knotweed

Adapting the UV resistance of the fabric to 3 years according to the limited product warranty to suit the installation and site requirements for the more typical use of the product. In standard applications, the fabric must be covered with at least 20 cm of gravel or soil and therefore requires only the appropriate UV protection to span the installation process – rather than the kind needed if the fabric will be exposed to direct sunlight over a long period of time. 
Advantages of Plantex® Platinium
Easy, quick and worry-free installation with immediate and long-term results. Lightweight, Plantex® Platinium is available in widths of 2.5m and of 5m which requires fewer joints when covering large surface areas, thus reducing labour time and minimising potential points of vulnerability. (Installation guidelines should be carefully followed.)

Exceptional resistance to damage or tearing, which is particularly important during installation. Furthermore, the high integral strength of Plantex® Platinium ensures that the strands and filaments of the fabric will not fray or become displaced once installed.

Excellent water permeability which prevents the build-up of differential hydrostatic pressures, as can occur with a closed membrane system, and eliminates the need for additional drainage systems.

This highly effective water vapour and air permeability also supports the balance and natural processes of condensation and flow in the covered soil, avoiding mildew growth from trapped humidity beneath the fabric, so reducing any greenhouse effect and improving soil health.

Offer a vital solution to EU regulations and UK HSE. Both UK and EU regulations will very likely limit or even prohibit the use of pesticides in the near future. Today, there is increasing awareness of the value of Plantex® Platinium as an economical, ecological and aesthetic solution for the protection of sensitive areas such as drinking water zones.

 
A complete solution from DuPont
Experts appreciate the complex challenges of eradicating Japanese knotweed. Thus, DuPont has combined a premium offering of advanced products and expertise into a complete solution to the nuisance of invasive plants. This consists of: Plantex® Platinium to control the plants above ground, plus Plantex® RootProtector and Plantex® RootBarrier to confine the root and rhizomic systems, together with a clear-cut installation guide to ensure that adjacent runs will be impenetrable to unwanted roots. Only by working with such comprehensive products and guidelines can invasive plants be beaten.
The Future is bright for Solar Farms
Alongside this typical-use offering, DuPont now also offers a specialised version of the fabric called Plantex® Platinium Solar. This product is dedicated to uncovered applications such as solar farms, or other such sensitive technical installations, where weed control presents particular challenges or can cause safety issues. Plantex® Platinium Solar can be left uncovered under UV radiation for 8 years according to the limited product warranty, thus reducing both installation costs and maintenance in the long run. 
For further product information:www.plantexpro.dupont.com
About Safety & Construction 
The Safety & Construction business, part of DowDuPont Specialty Products Division, is a global leader in products and solutions that protect what matters – people, structures and the environment – and enables its customers to win through unique capabilities, global scale and iconic brands including Corian®, Kevlar®, Nomex®, Tyvek®, Styrofoam™ and Filmtec®. For more information about DuPont Protection Solutions visit: http://www.dupont.com/corporate-functions/our-company/businesses/protection-solutions.html
About DowDuPont Specialty Products Division
DowDuPont Specialty Products, a division of DowDuPont (NYSE: DWDP), is a global innovation leader with technology-based materials, ingredients and solutions that help transform industries and everyday life. Our employees apply diverse science and expertise to help customers advance their best ideas and deliver essential innovations in key markets including electronics, transportation, building and construction, health and wellness, food and worker safety. DowDuPont intends to separate the Specialty Products division into an independent, publicly traded company. More information can be found www.dow-dupont.com.
images