'Calm & Wellbeing' 2022 RHS Chelsea tradestand
Thursday, May 26, 2022 - 14:44
The Hartley Botanic 'Calm & Wellbeing' 2022 RHS Chelsea tradestand: A stylish sanctuary of luxurious relaxation
English Greenhouse and Glasshouse manufacturer Hartley Botanic has enveloped visitors to its RHS Chelsea tradestand in tranquility and relaxation, with a stylish stand themed around Calm & Wellbeing. The stand features three enviable Hartley Botanic Greenhouses (and one paying tribute to the Queen's Platinum Jubilee,) all in complimentary and elegant tones of bronze and grey nestled amongst a naturalised planting scheme which focuses on form and texture. Landscaping and styling has a neutral and minimalist look, bringing together a calming feel with a chic, luxury aesthetic. The stand has been built and planted by Stewart Landscape Construction with design and styling by Llevelo Garden Design.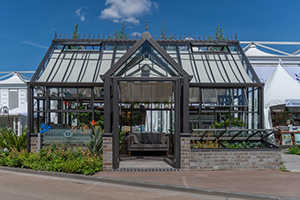 The three large, handmade Hartley Botanic structures shown include; a Victorian Lodge (with two additional single gable end doors) in manganese, a Magnum Opus in bronze and a NEW six pane glass-to-ground Hartley Wisley 8 Grow and Store in a bespoke olive grey with 2 extra panes at the rear, accommodating a useful, hidden storage area. Contemporary porcelain flooring has been combined with handmade clay pavers to provide a subtle textural contrast and has been designed to sit harmoniously within the Greenhouses.
The Victorian Lodge Glasshouse on the stand also houses an additional Hartley Botanic Patio Glasshouse as a tribute to Queen Elizabeth's Platinum Jubilee. The Patio Glasshouse has been powder coated in a bespoke white aluminium colour, and is filled with a mix of purple plants (including orchids) to represent the official colours of the Queen's Jubilee celebrations next weekend.
Stylish Calm and Wellbeing
The 'Calm and Wellbeing' tradestand has been designed to show how Hartley Botanic's elegant structures can offer a calming sanctuary for gardeners and non-gardeners alike. Furniture is minimal to create a light, airy feel and beautiful dressing elements, such as modern chairs and sculptural pieces have been carefully curated to exude order and tranquility, rather than clutter.
The Greenhouses have a synergistic bronze and grey colour pallete which, combined with the tranquil neutrals of the hard and soft landscaping and dressing, is calming and provides a stylish, minimalist look. Plantings on the stand are primarily in shades of green, a peaceful colour and the only one which our eyes don't have to adjust to see. The Magnum Opus Glasshouse is surrounded by soft planting and gentle classical music inside the structures provides a relaxing soundtrack for visitors.
Informal, yet elegant planting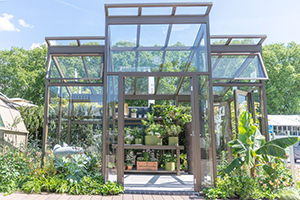 The planting on the Hartley Botanic tradestand is relatively informal and contributes to the stand's relaxed, calming atmosphere. There are no hard lines between the stand's paving and planting and, overall, the planting has a loose and natural style. The transition from paving to planting is softened by the integration of gravel with low growing plants such as Soleirolia soleirolii ('Mind your own business'). This was chosen for its ability to form a carpet of green which merges seamlessly with the mixed paving - all adding to the soft calming tones of the stand. Despite its relaxed ambience, the stand's planting is still unequivocally elegant, through its limited colour palette, with rich texture and architectural form providing interest.
As well as a strong textural focus, the stand includes scented plants, released as visitors brush past them and a selection of exotic plants – reminding visitors of the breadth of species that can be grown in a Greenhouse. The stand focuses on subtle sensory detail, rather than big, overpowering statements.
Tom Barry, CEO of Hartley Botanic said; "Excellent design always combines both form and function, and we wanted our tradestand to showcase both the emotional benefit of owning one of our Greenhouses, and their unparalleled beauty and style when in the right context. A feeling of space was important to achieve on the tradestand, so the planting could have a greater presence - to demonstrate how our wonderful Greenhouses might look within customers' gardens. But most importantly, we want visitors to have an emotional response. To feel calm, relaxed and to realise how a garden with a wellness focus can deliver this with style."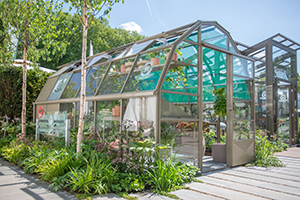 Hartley Botanic was founded in 1938 by brothers Vincent (RHS fellow) and Norman Hartley following their ground-breaking aluminium Greenhouse design, the first time (to our knowledge) aluminium had been used in Greenhouse construction and marking a huge improvement on its wood and wrought iron Victorian forerunners. The English manufacturer is an authority on Greenhouse design and use over the decades, having been making its beautiful and elegant handmade, made-to-order horticultural buildings for over 84 years from its original factory at the base of the dramatic Pennines' Chew Valley in Greenfield, Lancashire. It has become synonymous for crafting the finest Greenhouses money can buy through the very highest standards of hard-won experience, craftsmanship and service. A hugely respected brand within the horticultural world, it is the manufacturer of choice for leading organisations, institutions and designers with Hartley Botanic structures commissioned by the RHS, the National Trust, Kew Gardens, Glasgow Botanic Gardens, Massachusetts Horticultural Society, Oxford Botanical Gardens, Le Manoir aux Quat'Saisons, Blenheim Palace, The Lingholm Estate and Hampton Court Palace...to name a few. Its entire product range is endorsed by the Royal Horticultural Society.
All Hartley Botanic's Glasshouses and Greenhouses are handmade, bespoke and made to order. Customers interested in purchasing a Hartley Botanic Greenhouse should visit: http://www.hartley-botanic.co.uk or call 01457 819 155 for more information. 
'Why Hartley?' – What makes a Hartley Botanic the finest Glasshouse money can buy
Unrivalled. Unparalleled. Unique. There are Glasshouses and there are Hartley Botanic Glasshouses. Combining inspired design with enduring quality, nothing quite enhances your garden and home like a Hartley Botanic; each one beautifully handmade to last a lifetime.
Why Hartley?
At Hartley Botanic we have had a continuous conversation with our customers over many years. We have collected their comments so as to let you know what our customers say about us, and just why they have chosen a Hartley Botanic Glasshouse.
1.     Beauty and Elegance
The incomparable range of simply beautiful and elegant structures means Hartley Botanic can create designs that are distinctive and unique. The Victorian, Heritage and Modern Glasshouse ranges, are so comprehensive you don't have to go anywhere else to find your beautifully crafted, high-quality Glasshouses from the widest of choices.
2.     Structurally Superior
Every Hartley Botanic Glasshouse is handmade in the North of England to your exact requirements. It is made of the finest materials with unparalleled durability, safety, and beauty. All of the aluminium sections have a structural purpose. Short cuts, such as 'sticking' aluminium to glass for aesthetic reasons, are never taken. Hartley Botanic are so confident of the structural integrity of their Greenhouses; a 30-year Lifetime Guarantee is offered.
3.     A reputation Beyond Compare
Hartley Botanic's brand heritage and reputation have been built on trust for over 80 years. They have earned an unrivalled reputation for crafting the finest Glasshouses and Greenhouses money can buy through the very highest standards of hard-won experience, craftsmanship and service.
4.     Unrivalled Knowledge and Expertise
There is a wealth of knowledge and expertise built into every Hartley Botanic Glasshouse. Generations of customers have put their trust in the hands of expert, time served, highly skilled craftsmen. Glasshouses of distinction are created from decades of knowledge and care.
5.     Exceptional Delivery of Service
Once your order has been handmade to your personal requirements, and Hartley Botanic's exacting standards, your delivery and installation will be exceptional. The proud team at Hartley Botanic are there to ensure the process runs smoothly, providing you with the information you need and keeping you up to date throughout.