Wednesday, October 9, 2019 - 11:00
Award-winning Zest 4 Leisure, which manufactures and sources FSC® Certified timber garden furniture, fencing, trellis, gazebos, arches and a wide range of planters, is celebrating its best Glee yet.
The company showcased new products for 2020 at the recent garden and outdoor living trade show which were designed by the in-house design team in response to customer feedback, and based upon current and future market trends.
Commenting on their time at Glee 2019, Zest 4 Leisure Managing Director, Steve Morgan, said: "We had a fantastic response to our new products and received some really positive feedback about the changes that we've made to our business.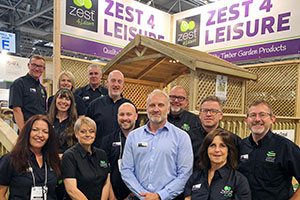 "Of the new products launched at Glee, our Aggregate range and the Raised Herb Planter proved particularly popular with visitors to our stand as did the Tiverton Charity Planter. We now have a very busy couple of weeks following up our conversations with customers and preparing for the 2020 season as well as rolling out our current promotions."
New ranges boost sales at Zest 4 Leisure
The new Zest decorative aggregate range includes a wide choice of coloured decorative gravel, MultiCem Mix® and pre-crated rockery stone, the majority of which are packed and stored at Zest's Saltney depot.
Other new products launched at Glee include the elegant Santorini Swing which features bowed laminated supports and side trellis panels giving it a beautifully enhanced look and allows the owner to have uninterrupted panoramic views of their garden or landscape.
The new Tiverton Charity Planter was commissioned to raise funds for Greenfingers Charity which creates beautiful, well-designed outdoor spaces for children who spend time in hospices around the UK to enjoy whether through play and fun, or therapeutic rest and relaxation. With an RRP of £14.99, for every planter sold, £2.50 will be donated to Greenfingers Charity and Zest has set a target of raising £10,000 for the charity.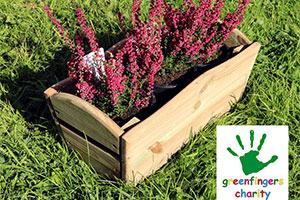 Also new is the Appleton Gazebo. With extra roof height, an open entrance and slatted side panels, all of which give maximum ventilation, the Gazebo has a very open feel and is ideal for providing shelter while cooking on a BBQ.
Ideal for entertaining friends and family, the elegant Rio Hardwood Bench, 2 Chair & Coffee Table Set is made from Jatoba wood giving it a reddish colour and a very smooth finish. Built to the highest standard, the modern lines give the set a contemporary look.
The Raised Herb Planter features 10 separate compartments in which herbs can either be grown individually in pots or planted. It also features a built-in shelf which can be used for storing tools, pots or gardening equipment. 
The easy to assemble new Diamond Raised Bed gives the illusion of a diamond shape with four tiers stacked on top of each other. This shape creates smaller spaces for planting and is ideal for cascading plants.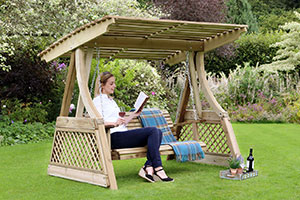 Another new addition to the planters and climbing support range is the Manhattan Plant Surround. With a multi-level base, it can be adjusted to any height making it ideal for a range of plants - from a cluster of colourful flowers to a fruit tree in a large pot.
Finally, the space-saving Pyramid Display Stand has been designed to display not only plants, but also lanterns, and other stylish decorative items. Bringing indoor living outside, it helps create the ambience of an outdoor living room.
Manufactured from pressure treated timber, all of Zest 4 Leisure's garden furniture is low maintenance, and will stand the test of time with a 10-year guarantee against rot. The timber used is certified by the Forest Stewardship Council and has been harvested from responsibly managed forests.