Five handy tips for sprucing up your garden this spring
Thursday, April 25, 2019 - 15:53
SPELLBROOK, England (April 2019) – With spring well and truly underway, view our five handy tips.Iit's finally time to give our gardens a makeover ready for the impending warmth. The cold winter temperatures may have left your garden in a sorry state, but the experts in the landscaping industry at Hayter have a five handy tips make sure your garden is looking its best this spring.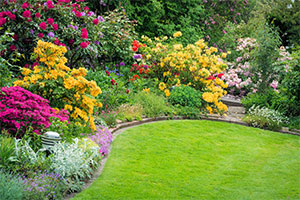 Spring clean
Over the winter your lawn will have collected all matter of branches, sticks, leaves and debris and now is the perfect time to have them removed. Clearing your lawn now will give way to the spring plants that are trying to grow through. Dead leaves also stop the lawn from absorbing sunlight, and may therefore stunt its growth. Carefully, but thoroughly, rake or scarify your grass to clear all the unwanted debris. What's more, the organic waste collected will make great compost.
Feed your lawn
One of the key ingredients for a lush green lawn is a seasonal lawn feed. Simple and effective – lawn feed will inject much needed nutrients back into your lawn and make it grow stronger and greener. A simple fertiliser can also reduce the likelihood of weeds taking.
Get planting!
Now the soil will finally be warming up, spring is the best time to start planting your vegetable seeds, such as carrots, lettuce and a variety of herbs. Sowing plants now means you will most likely yield a great summertime crop. You can also get planting flowers such as dahlias and lilies which will flower in summer. Any bulbs you planted in autumn will likely be flowering now such as daffodils and hyacinths.
First cut of the season
Nothing screams spring quite like getting the mower out from the shed to give your lawn the first cut of the season. To help your lawn grow healthy and strong, be sure to keep the cutting height higher than normal and lower as the season goes on to achieve your desired grass length. Never cut more than one third of the grass blade at a time as this can weaken the plant, making your lawn more susceptible to weeds and thatch. The all-new Hayter Harrier 48 and 56 models come with seven easy to adjust height-of-cut settings, meaning that is has never been easier to achieve the perfect finish any time of year.
Need a trim?
As we go further into spring, you'll definitely start to notice more and more growth on bushes and hedges too. Getting a trim in early before your plants entirely push out their new growth is a great way to keep your plants in check whilst making your garden feel fresh and tidy.
Christopher Cooper, Product Marketing Manager at Hayter said: "Spring is the perfect time to make sure your garden is looking its best. Looking after it now will definitely mean you reap the benefits later in the year and with the all-new Hayter Harrier range, it has never been easier to get a great looking lawn."
For more five handy tips and more information, please visit www.hayter.co.uk.