Monday, January 22, 2018 - 10:00
In previous years, neutral shades such as white and ivory, have typically been the preferred paint colour choice for conservatories, orangeries and garden rooms, especially around the time when white uPVC was very much en vogue. However, Westbury Garden Rooms, designer and manufacturer of bespoke timber extensions has seen an exciting new trend emerging amongst their customers, with more homeowners choosing to paint the exterior timber of their extension in black shades of paint, in order to create a real statement in their garden.
In addition, white paint has long been a popular choice as it is known for being less likely to age and fade over time, however, modern advancements in Westbury's paint formulas ensures that paint of any colour will offer this extended longevity. This, combined with the use of engineered timber, Accoya® - a material highly renowned for offering stability for years to come - ensures the surface coating is extremely robust. The paint will not peel and will continue to look good coat for 10 years or so enabling people to be more bold with their colour choices.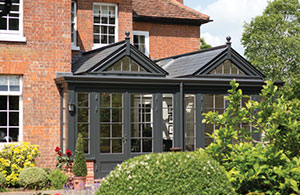 Westbury first started to see homeowners move from the neutral white palette towards more organic and earthy green paint shades in a bid to seamlessly match the woodwork of their extension to the leafy garden which it overlooks. These colour palettes are both still very popular today, but it's certainly fascinating to see an influx in the number of people who specifically want their garden room to really stand out, with many choosing the deepest shade of paint for their exterior woodwork – Westbury Black.
As is the case with all colours, there is a vast range of different shades available to choose from, and black paint is no different. In addition to the traditional jet black and ebony shades, people are swaying more toward darker tones, including graphite and charcoal, deep rich blues, or even walnut browns and deep olive hues, all of which can give a black appearance, depending upon the time of day and natural lighting levels.
A black exterior creates a dramatic statement in the garden and reduces the need for any additional or extravagant decoration and accessories around the outside of the property. Furthermore, a darker, black extension will create a truly stunning backdrop to showcase the bright vibrant colours of the blooming plants within the garden, adding greater depth to the surroundings.
Painting your garden room or orangery with darker paint tones will create a dynamic and dramatic appearance on the exterior of your home. During the lighter summer months the bright sunlight will provide a warm tone of colour from even the darkest shades of paint, and once the darker, cloudier days approach, the colour appears to fade into a beautifully deep shade.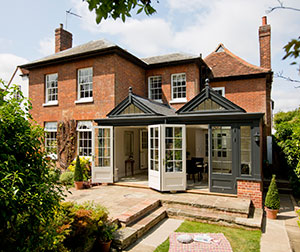 If you are interested in finding out more about glazed extensions by Westbury Garden Rooms, visit www.westburygardenrooms.com