British households have been urged to replace potentially harmful artificial air fresheners with fragrant plants such as lavender or mint.
The garden whizzes at  BillyOh.com  have conducted research and found five of the best smelling house plants to use as natural scent alternatives.
While the level of chemicals used in air freshening products are regulated, a recent study found households using them contained higher levels of potentially harmful toxins.
Households exposed to air fresheners could suffer from a range of adverse health effects such as migraines, asthma attacks and earache.
These potentially harmful effects could be even more of a concern for families with young children.
But thanks to mother nature households can maintain a naturally fresh smell by replacing the artificial fresheners with fragrant foliage.
There are a number of scented plants that can be grown indoors and emit potent flowery aromas, now the team from BillyOh.com have suggested five of the best.
A spokesperson from BillyOh.com said: "While many households use air fresheners they might not know about the detrimental effects they can have on a child's health.
"By getting rid of artificial fresheners and replacing them with scented plants, households can smell just as fresh without the risk of breathing in as many harmful toxins.
"There is a wide variety of fragrances to choose from depending on personal taste, which is why we have put together a list of the best smelling house plants."
Here are five of the best smelling plants revealed by  BillyOh.com .
Scented geranium
With unique scents such as apple, lemon and strawberry, homeowners would be forgiven for thinking they were choosing from a range of air fresheners, not sweet-smelling plants. That's because there is a range of germaniums that come with their own unique fragrances, leaving homeowners with a wide variety to pick from.
The scented plants are split into seven main categories depending on their smell which are rose, lemon, mint, fruit and nut, spice, pungent and oak. To keep them alive and healthy it is recommended that potted geraniums are watered once every four weeks.
Lavender
With its distinct soothing scent and widely recognisable purple flower tips, lavender emits one of the most popular fragrances from a plant. Its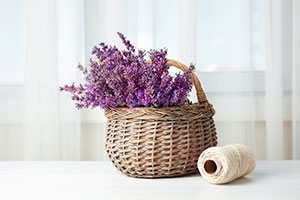 relaxing smell is thought to have a calming effect and many believe it can even help people them fall asleep. Although this is widely recognised it's still unknown how this actually works.
Keeping lavender on a window sill is key to it growing indoors as this should ensure it gets the high level of sunlight it requires.
Citrus plant
This plant emits the sweeter smells of lemon, orange and grapefruit but having these radiate throughout a home can require a high level of plant maintenance. When being grown indoors it needs at least eight hours of sunlight per day with one soaking every week. If the plant is not supplied with these key elements, problems can develop and its sweet zingy smells will be no more.
Mint plant
One of the best alternatives for households that don't like a traditional flowery fragrance is the fresh smelling mint plant. The two most popular scents are peppermint and spearmint which both emit delicate aromas. However, this greenery does require a significant amount of plant maintenance as it needs at least three to four waterings every week.
Gardenia
At some point green-fingered Brits may have unknowingly sprayed this on themselves as the plant is a regular ingredient in many popular perfumes. It has a heady sweet-smelling aroma that can keep households smelling fresh for months. To keep the plant healthy, it's important to expose it to regular bright light and water once every week.