Manchester-based pet bed specialists Scruffs® have announced that their new 'Ellen' collection of bedding will be ready to order at the beginning of November.
Officially launched at GLEE® & PATS® Telford in September, "Scruffs® Ellen dog bedding collection is produced using a textured faux fur, with a contrasting tweed outer cover. The beds sleep area has been lined with a luxurious plush fur, providing warmth & comfort. Each bed is finished with a soft- feel Scruffs logo on the front of the bed.
The Scruffs® Ellen donut bed is filled with 100% recycled green fibre filling, combined with a fixed centre cushion for improved support. The mattress is made using an integral 100% recycled green fibre filling, secured in four places, this provides greater cushioning characteristics and enhanced durability. Both styles of bed have a non- slip base and the complete bed is machine washable at 30 degrees."
Dubby Klyne, Sales Director at Scruffs®, said: "Scruffs® Ellen collection boasts a somewhat different colour pallet to other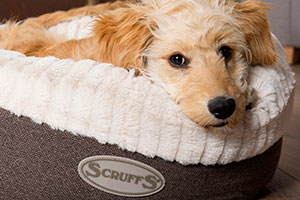 products in the range, and is a much-needed addition to our winter line-up. We are pleased to launch this collection in the UK on the back of some great feedback at GLEE® & PATS® Telford last month."
For more information, please contact a member of the Scruffs® marketing team usingpr@petslovescruffs.com or via phone on +44 (0) 161 702 5060.