Wednesday, April 24, 2019 - 15:38
Sustainability matters: how LifestyleGarden® is setting a new standard for sustainable business
sustainability
/səsteɪnəˈbɪlɪti/
noun
the ability to be maintained at a certain rate or level.
"the sustainability of economic growth"
avoidance of the depletion of natural resources in order to maintain an ecological balance.
"the pursuit of global environmental sustainability"
It's a point of principle for many businesses to be as environmentally friendly as they can be, however there is one company that is priding itself on setting a new benchmark, and that is LifestyleGarden (under its parental company, ScanCom International).
ScanCom, together with LifestyleGarden, is raising the bar in regard to sustainable business in a way that has not been seen before within the garden and leisure sector. From corporate social responsibility, human and labour rights, and environmental management practices, every part of the business, from production to people, is heavily focused on ensuring the company's motto 'Doing Business the Right Way' is carried out.
But what does being a sustainable business really mean? We focus on the extensive efforts that ScanCom's team undertakes every day to achieve a true sustainable status.
Investing in truly green materials
We're all familiar with terms such as FSC, 'low-impact', minimal waste and 'recyclable materials' but in a world that is waking up to the dangerous impact of certain materials, these terms are just the tip of the iceberg when it comes to better material control. 
Of course, any business that focuses on aspects such as FSC timber continues to secure a long-term future for timber usage, by putting back what they take through forestation programmes. At ScanCom, 100% of its hardwood timber is FSC certified, with its teak grown in responsibly managed plantations or has been sourced and recycled from components and structures on the island of Java. The latter includes wood that originates from barns, houses, railway sleepers and other constructions. The wood is bought from the original sources before it is brushed, cleaned and repaired to give it a beautiful, rustic appearance.
Material usage also comes in the shape of significant innovation, including Lifestyle Garden's Duraboard® - an environmentally friendly material that is durable, highly UV-resistant and built to last a lifetime. Made from a unique blend of high-quality eucalyptus sawdust and polyethylene resin, the production of Duraboard® occurs entirely in-house, enabling each stage of the process to be closely monitored for quality control purposes.
Despite such impressive achievements, the company is not resting on its laurels. Plans are afoot to increase recycling of key raw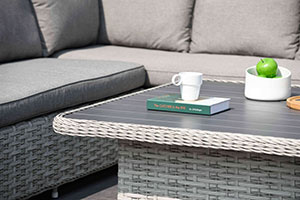 materials such as plastics and wood, setting a new benchmark for protecting the environment while investing in responsible production methods to build an even more sustainable business. 
The use of responsibly sourced materials backed by a common goal of promoting environmental responsibility and sustainability, was the reason why the Eden Project recently selected LifestyleGarden as its UK furniture partner. Announced to critical market acclaim in early spring, the response to the range has far exceeded expectations.
This new partnership will see LifestyleGarden®'s garden furniture ranges supported by the Eden Project branding, helping consumers to make a more considered decision at the point of purchase. The new Eden Project ranges – available for the 2020 season – will also provide retailers with a unique point of difference in this normally traditional product category. The company will also have access to the Eden Project's exclusive designs and patterns, providing the new range with an exciting selection of add-on sales opportunities, including accessories such cushions and deckchairs.
Talking about the new partnership, David Harland, CEO of Eden Project International Ltd, said: "We are delighted to be entering this significant partnership with LifestyleGarden®. For some time now Eden has sought to work with a furniture supplier whose ethos meets our own in terms of craft and sustainability. LifestyleGarden® have a unique, innovative approach to the challenges within the industry and we look forward to working together".
Minimising environmental impact
Limiting its impact on the planet is in the DNA of LifestyleGarden and ScanCom. Its ethos of 'Doing Business the Right Way' sends a clear message to suppliers that they must aspire to the same vision of 'reduce, reuse and recycle'. ScanCom has successfully increased its partnerships with genuinely sustainable suppliers who adhere to the same working principles. Development of such relationships is driving innovation and forms the catalyst for future products based on recycled plastic materials – a win-win scenario that's good for business while protecting the planet's precious resources.
It is therefore not surprising that this strategy of collaboration has already been recognised this year. ScanCom was honoured to be shortlisted for the sought-after Best Collaborative Effort award at the UK Sedex Awards in March. The accolade throws the spotlight on businesses that forge valuable collaborations or partnerships with customers, suppliers and stakeholders, focusing on key issues such as improving working conditions or solving responsible sourcing challenges. The judges recognised that ScanCom, working with its partners, aims to create outstanding products that combine international design expertise with state-of-the-art production techniques and a proven commitment to corporate social responsibility. Receiving industry recognition in the form of a shortlist is an achievement that ScanCom is extremely proud of.
At the core of its operation is ScanCom's five–point strategy to going green: Using 100% FSC hardwood, minimising waste, reducing emissions, cutting consumption of resources and energy and controlling the use of restricted substances in all materials used. At the same time, ScanCom continuously optimises its operating activities to reduce consumption of energy and resources, increase recycling, and cut emissions. The main operation sites are operating under ISO 14001 certificate.
The quality and reliability of all materials and products are assured through control of the supply chain. ScanCom only uses FSC-certified new timber from responsibly managed plantations, or recycled teak sourced on the island of Java. It is taking active steps to cut the use of hazardous materials in its production processes, ensuring that replacements maintain its high standards of quality, reliability, safety, health and environmental properties.
Harnessing people power
People are the heart of any business. More than 3,000 employees at ScanCom's own facilities in Brazil, Veitnam and Indonesia transform the company's vision into reality – designing, sourcing, processing raw materials and ensuring that finished product meets the highest standards. 
It's a complex operation with staff of 22 nationalities, speaking 14 languages, developing over 1,128 products per year using 15 types of materials. Staff at the firm's two main showrooms listen to the needs of its customers from 52 countries, taking responsibility for the delivery of 6,000 containers of product. 
With such a large, diverse and dedicated workforce, ScanCom is committed to developing a culture that respects internationally recognised human rights. Every aspect of human and labour rights in the business is scrutinised, with operations in Brazil, Indonesia and Vietnam adhering to the highest standards of health and safety management. From retaining young talent to creating a structure where leaders are nurtured and opportunities delivered, the company invests heavily in a culture that allows all employees to flourish and develop their careers. It goes to show that 'Doing Business the Right Way,' combined with a dedicated focus on sustainability,goes hand-in-hand with strong operational performance and profitability.
Find out more
Operating an ethos of complete transparency, details on all of ScanCom's commitments to better working environments, better material usage and future plans can be found at www.scancom.net. Furthermore, the UK-based LifestyleGarden team is on hand to help retailers better understand how all this translates into the ranges available to the UK market.
To find out more about LifestyleGarden® and its premium-quality outdoor furniture, please visit us at www.lifestylegarden.com, or follow the team on Facebook and Instagram.