AS we leave the cold spell behind and slowly creep into the warmer months, many homeowners will be heading out in the garden to prepare for the spring season ahead. 
UK gardening Superbrand Flymo has highlighted the key tasks we should begin to tackle throughout March to stay on top of our outdoor spaces. 
EARLY MARCH
There's plenty to do outside this month to prepare your garden for warmer weather. Perhaps you have ambitious plans for a flourishing garden this spring, or you're refreshing your outdoor space for a new season. Either way, it's important to get started now. 
Brainstorm and plan 
First and foremost, you should treat your garden like you would an interior design project. A great way to get started is to create a mood board with ideas for this season with images of different plants and colours you want to incorporate into your garden. Why not create a family fun rainbow garden, a 'mindfulness' garden of tranquility or a modern alfresco dining garden for entertaining this summer. If you have an idea of the desired end result, you are more likely to achieve it so now is the time to get organised.
Spruce up your tools
It's essential to give your gardening equipment a once over to check that it's in safe working condition and able to perform well. Test out any tools and machinery that you've stored in your shed over winter and purchase any replacement parts required. 
Look after shrubs and small bushes
It's likely that, over winter, you've opted for cosy nights indoors by the fire rather than spending time in the garden resulting in neglected shrubs and bushes. Any tender shrubs or trees will appreciate a generous application of mulch which will also help should the temperatures unexpectedly drop. 
Clean up your surroundings 
With heavy rain, winds and snow over winter, your garden is likely to look a little worse for wear. It is important to take the time to clear any mess including dead sticks, leaves and rubbish that may have appeared. A quick and simple way is to arm yourself with Flymo's new for 2019 C-Link 20V Blower. The impressive blower has a jet fan for high air speed to clear any small to medium sized space of debris, fallen leaves and grass cuttings.
LATE MARCH
The days are starting to get longer and temperatures are beginning to rise, so your garden is bound to be starting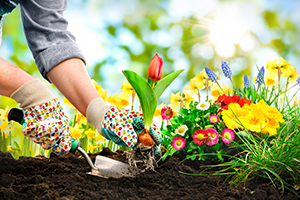 to flourish this month. 
Deal with weeds
The most daunting job for this month is weeding your garden, but by getting on top of the task now, you will benefit for the remainder of the year. Try pulling them up by their roots and in areas where it is safe to do so, lay sufficient weed killer to ensure that they do not come back again, ensuring that you apply the weed killer in accordance with the instructions. It's also best to avoid applying weed killer if it is likely to rain as it will dilute the application. 
Remove moss
Unfortunately moss is a common problem and is often a sign of poor garden health. Unlike plants, moss doesn't require roots to survive meaning it can grow almost anywhere. To stop it spreading across your lawn, apply moss killer to the affected areas and allow the moss to die. After a week or two it's safe to remove the blackened dead moss. 
De-thatch your lawn
Thatch is a layer of dead organic matter between grass blades, which prevents sunlight, moisture and nutrients from reaching the grass roots, weakening it - and in extreme cases, causing it to die. A garden rake is the perfect way to remove moss and thatch from your lawn, however it can be physical work. Alternatively, an electric lawn rake such as Flymo's Lawnrake Compact 3400 will remove excess thatch and moss quickly and easily and promote healthy grass growth.