Green-fingered cat lovers can find out how to create the perfect feline-friendly garden to enjoy with their furry friend with Cats Protection's 2019 gardening tips.
The UK's largest charity has put together its top ideas for ensuring cats stay happy and safe outdoors, ahead of its attendance at the RHS Malvern Spring Festival from 9-12 May.
Cats Protection's Events Manager Emma Osborne said the ideas would help owners who want to encourage their cats to stay closer to home.
She said: "Creating a feline-friendly garden where your cat will want to play, rest and explore is an excellent way to ensure they don't wander far.
"It can be great fun coming up with ideas for new spaces for your cat to enjoy, which can also become an attractive feature in your garden. Whether it's piles of logs to provide a scratching area or large bushy shrubs for hiding and snoozing under, there are lots of cheap and easy ways to transform a garden into a feline paradise."
Other tips for keeping cats safe and amused in the garden are:
·Get sowing: Cats love to nibble grass, which helps them cough up hairballs. A particularly popular variety is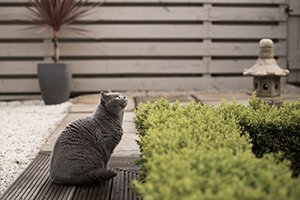 Cocksfoot – buy seeds from a pet shop or garden centre and sow a fresh patch of grass in a dedicated spot in the garden.
·Go crazy for catnip: The ultimate garden treat for fun-loving felines is Catnip (Nepeta cataria), a plant which is renowned for inducing a highly excitable reaction in cats. Dried catnip is available in shops, but the fresh plant makes an attractive addition to the garden for both owners and cats to enjoy.
·Get planting: Cats can feel threatened in exposed spaces and love secluded spots where they can rest and keep on eye on what's happening! Choose bushy plants without thorns which can provide shade and a secluded spot for cats to enjoy – lavender is a great choice.
·Carry out a safety check: Remember the great outdoors can pose some risks to cats. Keep chemicals and gardening products stored safely out of reach and check before shutting the door on sheds and outbuildings in case a cat has sneaked in. Avoid plants which can be toxic to cats – lilies in particular can be lethal. A full list is available on Cats Protection's website at www.cats.org.uk/dangerous-plants
Cats Protection is the UK's largest cat charity, helping around 200,000 cats every year through a network of over 250 volunteer-led branches and 36 centres.
As well as finding out more about cat-friendly gardens, visitors to Cats Protection's vintage summerhouse-style stand at RHS Malvern Spring Show can discover a fascinating world of information about cats and their care, as well as enjoy browsing a range of cat-themed merchandise. 
To find out more about the work of Cats Protection, please visit www.cats.org.uk