Bridget is a full time painter and mixed media artist. She lives on the edge of the North Yorkshire Moors National Park in the seaside town of Whitby.

Living in such a beautiful place gives Bridget the ideas and inspirations for her paintings, creating bold, colourful works, in her own unique style.
Creativity has always played an important role in Bridget's life and at a very young age it was her grandad that first planted the creative seed.
"As children we were always in his workshop helping him to make things out of wood, he believed that he could make anything and that 'have a go attitude' has rubbed off on me. I've tried many creative mediums from clay, wood, textiles but painting is my passion".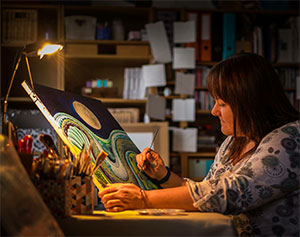 Following an early career in the NHS did not stop Bridget from creating and when she got home she was always drawing, painting and making things.
Twelve years ago Bridget decided that she would like to follow her passion for painting and it was then that she started to build her own business. She has been painting professionally for the last eight years with solo exhibitions, working with schools and art council funded projects. She is also one of the organisers of the now established Staithes Festival of Arts & Heritage.
Bridget has recently been working on little sculptures and Shadow Boxes. These are an extension of her paintings using mixed media, driftwood, clay and found objects.
Bridget has a wonderful collection of finds that she is incorporating into these sculptures. "There's nothing better than a walk along the beach, treasure hunting for these pieces"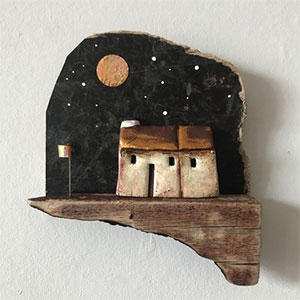 Bridget's work is fast becoming collectable both locally and nationally.
From her paintings Bridget has created a selection of Art cards. Each card a vibrant and quirky interpretation of the natural world, with every design telling its own little story. All cards are blank inside an come cellophane wrapped with a white envelope.
If you are interested in stocking her cards go through the link below to register for trade access https://trade.bridgetwilkinson.co.uk
Or email bridget at bridget@bridgetwilkinson.co.uk
www.bridgetwilkinson.co.uk