Barlow Tyrie is approaching 100 years since starting as a specialist manufacturer of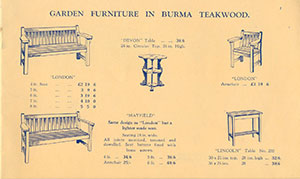 Teakwood outdoor furniture. We are known and respected in developed markets worldwide having progressed from humble beginnings in East London to be the oldest remaining manufacturer of this very traditional English product.
Renowned the world over for high-quality outdoor leisure furniture Founded in 1920, BARLOW TYRIE is the world's oldest manufacturer of teak leisure furniture. It has since extended its collections to include outdoor furniture in sustainable teak wood, brushed stainless steel, powder-coated aluminium, and hand-woven synthetic fibre.
Barlow Tyrie combines form and function with manufacturing expertise and experience. Our aim is to create pleasing designs with good ergonomic performance, and so make outdoor living as stylish as it is comfortable. These elements, which are shared with quality interior furniture, make a piece 'correct' to the eye and body.
An international reputation based on stylish yet practical designs, traditional craftsmanship, and excellent customer service has made the Barlow Tyrie brand synonymous with quality.